Detmer Says "Race Nonsense" Is "Fake"
June 23, 2020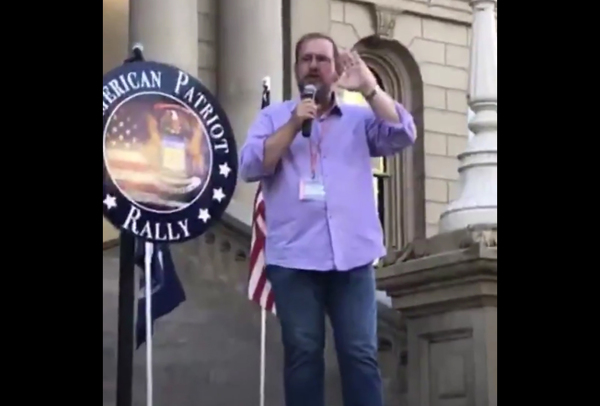 Here's video of @DetmerMike saying that all this race nonsense is fake. #BLM #BlackLivesMatter @MCmuckraker pic.twitter.com/p9s8q7H36R

— George Soros STAN ???? (@crazybabymama18) June 20, 2020


By Jon King / jking@whmi.com


One of the candidates seeking the Republican nomination for the 8th District Congressional race is once again in the headlines.

Mike Detmer of Howell was one of the speakers last week during a militia rally in Lansing called the "American Patriot Rally" in which he addressed the ongoing protests against police brutality and systemic racism. "If you want to speak your mind; speak your mind. Let's have an honest discussion about this to move forward. Because as Americans….Let me just say this…I want to address this whole race nonsense…It is fake, it is fake. Here's the reality: If you are someone of faith, you understand that all lives matter. It was decided by the blood of Jesus Christ 2,000 years ago."

Detmer made his remarks after questioning when the First Amendment began protecting people who "pillage, burn, destroy" others' property, referencing the arson and property damage that accompanied some of the initial protests following the murder of George Floyd while in Minneapolis Police custody.

When asked by The Detroit News about his comments, Detmer argued that "the left" is promoting race and class warfare. He told the paper he wasn't suggesting that racism doesn't exist, but it doesn't exist "on the scale they're talking about" and that while there may be "bad apples in the police force" he said most police officers aren't racists. "All lives matter. Bottom line: Everybody's life matters."

Black Lives Matter activists and others say the phrase "All Lives Matter" denies the racial component behind the killing of George Floyd and numerous other people of color by a predominantly-white law enforcement system they view as systematically racist.

Congresswoman Elissa Slotkin, who flipped the district away from the GOP in 2018, called Detmer's comments from Thursday "out of step with the 8th District," adding that, "Not one of the community leaders or law enforcement officials I have talked to the last four weeks thinks that racism is 'nonsense' or 'fake.'

Detmer gained notoriety in April after he was pictured with a member of the far-right group The Proud Boys, who he later defended on his Facebook page as being wrongly labeled as a racist hate group.