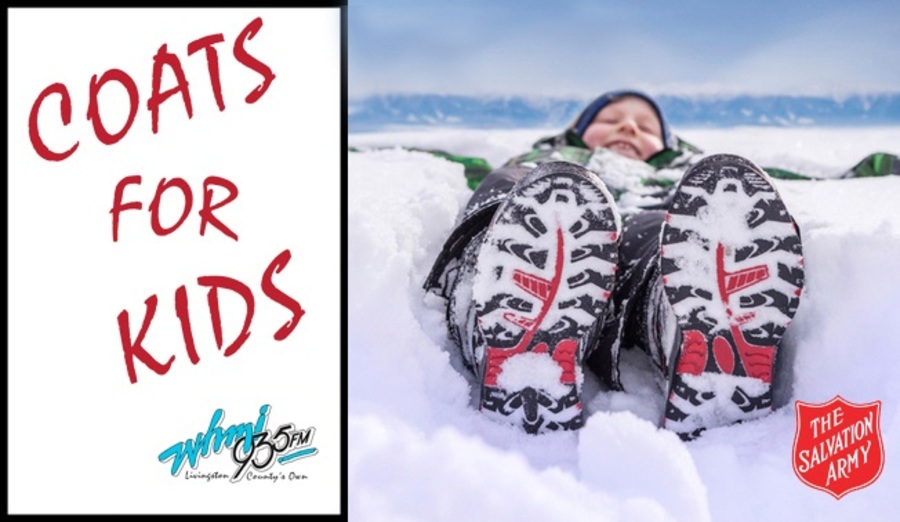 This year the Salvation Army of Livingston County projects an even greater number families will need assistance with winter clothing. New coats, hats, gloves & mittens, snow pants, and winter boots…or clean and gently used items can be placed in the WHMI Coats for Kids boxes throughout the area including:

- Mugg & Bopps D-19 South of 96
- Mugg & Bopps M-59 Hartland
- Nurture Family Dental Between Howell and Brighton on Grand River
- Brighton Ford Grand River at I-96
- Buff City Soap 311 W Main St, Suite 1 in Brighton
- Your Nesting Place At the Corner of W. Huron & Main in Milford
- Once Upon A Child Grand River in Brighton across from Meijer
- Dan Hall Pinckney CDJR Pinckney
- Spartan Tire and Auto Michigan Ave. by the Railroad Tracks, Howell
- Fenton Meat Market Fenton

All donations will be made available without cost to those in need at The Salvation
Army Church and Social Services building on Lake Street in Howell. These donations are not for resale at the Thrift Store. Help make it a warmer winter for area children with a donation to Coats for Kids…and thank you from THE Salvation Army of Livingston County and all of us from 93-5 WHMI. Livingston County's Own, Classic Hits.