Brighton running back needs more carries to impress bigger schools
September 8, 2022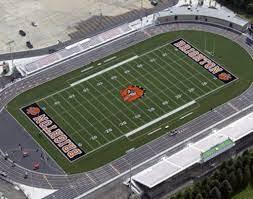 By Terry Foster
Brighton running back Carson Shrader made a verbal commit to play football at Illinois State.
However, he is playing like a man who wants to upgrade, which is exactly what he wants to do.
"My recruitment is wide open," he said.
Shrader's goal is to attract attention from Michigan State or Navy, his dream teams to play for.
Shrader is drawing attention in the prep world with six touchdowns in the first two games of the season for the unbeaten Bulldogs (2-0).
It might help his cause if he carried the ball more. The Bulldogs are in love with the passing game, in part because it is working.
However, Shrader is dominating on the ground which is usually the bread and butter for high school attacks. He has rushed for 162 yards on just 13 carries with six touchdowns.
The next test is Friday night (7 p.m.) at next door neighbor Hartland (1-1).
Although Hartland's defense is stout it might be scary if Shrader is allowed to let loose.
Brighton is favored to win the West Division of the Kensington Lakes Activities Association a year after youthful mistakes sidelined them this year. The Bulldogs are not only more experienced, but they are better.