Hartland Girls Win Regional Hoops Title
March 13, 2019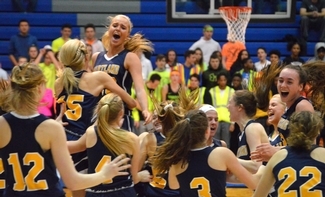 The Hartland girls basketball team won its second consecutive regional title last night, beating Walled Lake Western for the second year in a row, this time 50-46 in a game played at Lakeland High School. Nikki Dompierre had a career-high 26 points for the Eagles, who are now 22-3. They withstood Western's 3-point shooting. The Warriors got all of their baskets on 12 three-pointers.

The Eagles will take on defending state champion Saginaw Heritage at Grand Blanc next Tuesday. Heritage won the regular-season matchup between the teams.

Picture courtesy of State Champs Sports Network.