Brighton Hockey Coach Paul Moggach Retires
July 24, 2020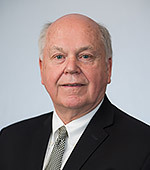 Paul Moggach, who coached the Brighton hockey team to five state championships in 25 years at the helm, announced his retirement as coach on Friday.

"I want to watch my grandchildren play hockey and see more of Damon's games," he said, referring to stepson Damon Whitten, who is the head coach at Lake Superior State University.

The 74-year-old Moggach, who still works full-time as director of risk management for the University of Michigan, also plans to spend more time with his wife, Sharon. "She's given up a lot for hockey," he said.

Moggach has been a trailblazer among coaches. Among the things he introduced at Brighton which have been adopted by other area coaches are team bonding trips. For Brighton, it has been an annual trip to the Keweenaw Peninsula since 2002. He also hired a skating coach and introduced nutrition and organized on- and off-ice workouts.

He won his first state title in 2006, followed by titles in 2011-12 and 2016-17.

Brighton athletic director John Thompson says the search for the next coach will begin on Monday.