Brighton Defeats Fordson In Season Opener
August 26, 2022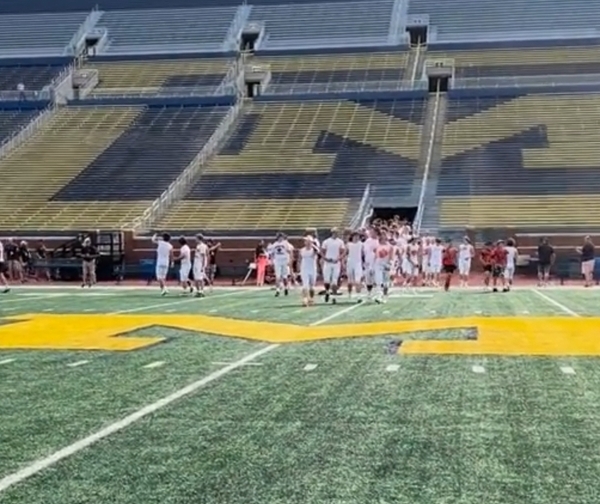 ANN ARBOR -- The Brighton Bulldogs survived opening-day jitters Thursday at the Big House. They survived a muffed return on the first kick off of the game.

They survived a botched field goal attempt, a blocked field goal and they survived what could have been a devastating interception in the third quarter that was returned to their two yard line by the Tractor's Hussein Beydoun. And finally they survived an early injury to senior quarterback Colin McKernan who appeared to be in command until he was sidelined by a left foot injury after being sacked by Fordson's Hussein Albarket with 9:39 remaining in the first half.

No worries. Back up Grand Hetherton played just fine outside of one hiccup that Brighton played through to survive to see another day.

The key word in all this is survived. When mistakes happened Brighton (1-0) not only survived, but thrived during a gritty 35-14 victory over Dearborn Fordson (0-1) in the Battle of the Big House at mammoth Michigan Stadium.

This is a game the youthful Bulldogs may have dropped last season because mistakes often smothered them. But the new, improved and mature Bulldogs stood up and took a bow toward about 4,000 fans who witnessed a more dangerous and grizzled Brighton team.

"We are going all the way," said junior defensive end Braeden Chiles, who does everything on the field.

He stuffed runners at the line and sacked the quarterback at defensive end. And he booted five extra points. On the down side one field goal attempted was blocked and another botched by a bad snap.

Brighton faces a week of intense practices in order to clean up the mistakes before its home opener next Thursday (7 p.m.) against Plymouth Salem.

This is a team that proved it can overcome mistakes. Now the Bulldogs want to become a team that eliminates mistakes and thrashes opponents with good, clean football. Even on a mistake filled day the Bulldogs were dangerous. They collected 401 yards of total offense, with 245 yards coming on the ground.

Running back Carson Shrader played a big role with 122 yards on the ground on just eight carries.

Brighton came out firing through the air as McKernan hit his first seven passes. Shrader finished the first scoring drive with a spectacular 56 yard touchdown run to give Brighton a 7-0 lead. He later scored on a 38-yard scamper with 9:27 remaining in the first half to extend Brighton's lead to 21-7.

"I think we wore them down," Shrader said. "Our game plan was to come out fast and kind of wear them down. And that's what we did."

After Hussein returned an interception to the two-yard line, he scored on the very next play to turn this game into a nail biter, 21-14, with 5:45 remaining in the third. Once all the spooky and scary play left the building Brighton dominated and scored the final 14 points to close out the game.

"We struggled at times last year," said coach Brian Lemons. "We were immature. The maturity level this year is going to help us out. I think last year we would have folded a little bit."
Not this time.