Hartland center is the Bill Russell of Livingston County basketball by Terry Foster
March 1, 2023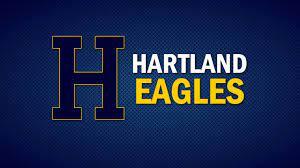 Forgive Hartland junior center Sarah Rekowski for not knowing who Bill Russell is. After all, she is a teenager and Russell ruled the court for the Boston Celtics from 1956 to 1969 well before she was born.
Rekowski showed Wednesday night why she is the Bill Russell of Livingston County girls' basketball. All she does is win and defend and rebound and anything else needed for Hartland to excel. She finished with 17 points and 13 rebounds during Hartland's 45-39 victory over Brighton in a Class A District semifinal.
The Eagles (14-10) continue their Cinderella journey Friday when they play host to Howell (17-6), a team they split games with this season.
The girls jumped for joy and exchanged hugs after the Brighton game. It seemed like an exuberant celebration for a team that advanced to the Class A state final game before losing to West Bloomfield. They were giddy because they'd lost to Brighton twice during the regular season and the majority of the team was on junior varsity during the Eagles' title game run.
It was a rough season. Hartland finished fifth in the KLAA West Division after playing three weeks without Rekowski. It should come as to no surprise Hartland is 5-1 since she returned from an ankle injury.
Hartland turned from a solid, dangerous team into winners upon her return. While she watched games in street clothes, she kept thinking one thing.
"Win districts. Win districts," she said. "And let's see how far we can go."
This would be the same mentality as Russell, who won 11 NBA titles during his 13-year career. The 6-foot-3 Rekowski played a pivotal role in Hartland's roll to the Finals last year. She continued against Brighton where she dominated the paint. She not only scored and rebounded but disrupted Brighton's offense. Brighton ran a slip play for guard Mary Copple (20 points) on a back door cut but Rekowski read the play and stole the pass inches from Copple.
Hartland guards also fed her on the high post where she was able to look over the defense and find open shooters.
She snatched rebounds from weaker players and hurt Brighton with a jump-step push shot in the paint.
I asked Rekowski a tough question for someone who wants to remain humble and give credit to teammates. Is Hartland a better team with her in the lineup.
She hesitated and said: "Ummm yes. I felt like we were not the same team with me out. With me back I feel like we can go far."
Rekowski calls teammates her sisters. And she wants to carry them to a state championship. There is a major snag in those dreams. Hartland must face West Bloomfield in the Regional Finals at Lake Orion if it continues to win.
"I know me, and this team can go super far," Rekowski said.
Spoken like Bill Russell.