Eagles Fall To Lakers In Division 1 Girls Basketball Championship
March 20, 2022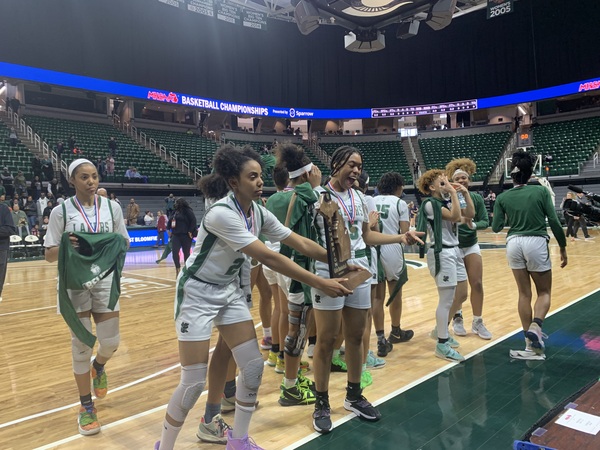 By; Ryan Wooley
Twitter: @WooleyMammoth85

It was a magical season no matter how you look at it for Hartland in girls basketball. They set a new program record with 25 wins, won another district and regional title, and exercised their demons in the quarterfinal round by coming back to beat Midland Dow to advance to the Final Four at the Breslin Center after losing the previous four trips under head coach Don Palmer.

Once they made the big stage they made quick work of Wayne Memorial on Friday and seemed poised to win their first state title in team, and Livingston County history, but West Bloomfield jumped out to an early 11-4 lead in the Division 1 state title game Saturday and never looked back.

In fact, the Lakers lead wire to wire, building a lead as large as 14, but saw it cut in half early in the 4th quarter thanks to a 13-6 Hartland run with just four minutes to play! The Eagles offense however went cold, as they were unable to score the next three minutes -- ultimately sealing their fate in a 51-42 loss.

Amanda Roach in her final game of her high school career led the way for Hartland with 21 points, while Indya Davis paced the Lakers with 17.

The title for the Lakers is their first in team history and was just the second time West Bloomfield had made the title game, with the last coming all the way back in 1989. The win also had the Lakers get over the hurdle that has been Hartland after the Eagles beat them the last two times in the regional semifinals in 2019 and 2020.

All in all it wasn't the ending that Hartland had hoped for. But it was an incredible run for a freshman class that grew into one of the greatest senior classes in Livingston County history as Leah Lappin, Gracey Metz, Amanda Roach, and Lauren Sollom posted a 90-8 record and reached at least the state quarterfinals three times, and were denied a possible fourth appearance when state tournaments were shut down during the 2020 season due to COVID.

Gracy Metz and Morgan Seog also made history, as they became the first Livingston County girls to play in the state championship game in two different sports, as they were both on the Eagles state championship soccer team last season.

If you would like to listen to Saturday's championship game again, you can hear it in our "Inside The Huddle" podcast.