Hartland Girls Basketball Is One Win Away From A State Title!
March 18, 2022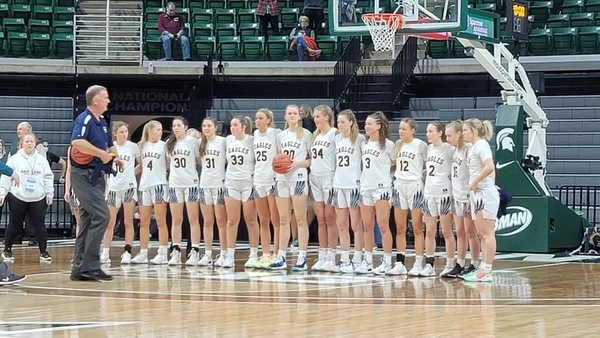 By: Ryan Wooley
Twitter: @WooleyMammoth85

It took a miracle shot against Midland Dow to tie the game and force overtime Tuesday to even get into the Final Four against Wayne Memorial Friday afternoon, but once the game tipped off, everyone quickly realized the Eagles have moved on after beating the Zebras 52-42 to advance to the state title game for the first time in team history.

Amanda Roach led all scorers with 18 points in the game, while Leah Lappin finished with a double double 13 points and 11 rebounds.

The Eagles will now look to make history against West Bloomfield Saturday at 12:15pm, as no girls or boys basketball team from Livingston County has ever won a state title. We of course will have full coverage of the game right here on 93.5 starting at 11:55 with the pre-game show.

To get ready for the game however, you can listen again to their epic victory over Wayne Memorial in our latest podcast.