Hartland Girls Basketball Is Headed To The Final Four!
March 15, 2022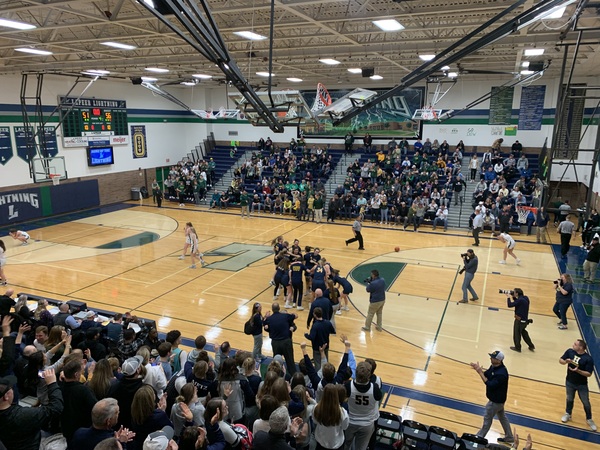 By: Ryan Wooley
Twitter: WooleyMammoth85

It wasn't easy, nor was it pretty, but Hartland's girls basketball team played as just that, a team, to come back and beat Midland Dow 56-51 in overtime in the quarterfinal round of the MHSAA playoffs!

The Eagles found themselves trailing by twelve at the half 25-13, but opened the third quarter on an 14-5 run that was started by three straight field goals from Leah Lappin, Emerson Sargeant, and Lauren Sollom, and then capped by back to back three-pointers from Lappin and Gracy Metz -- which happened to be the team's first points from beyond the arc to trail 32-29 heading into the fourth.

In that final quarter, Midland Dow would continue to bend but not break as Hartland would pull within a possession multiple times before the Chargers built an eight point lead (45-37) with under three minutes to go. Hartland however would not go away, using a 9-1 run to tie the game at 46, thanks to a right wing three from Olivia Linden with just seconds to play!

In overtime, Hartland would trail just once as Abby Rey would score after an Eagles free throw to make it 48-47 to open the extra session, but that would be their last lead, as Hartland would go on to outscore the Chargers 9-3 the rest of the way to punch their ticket to the state semifinals on Friday afternoon against Wayne Memorial, who earlier in the night beat Riverview 44-33.

Gracy Metz led the way with 16 points, while Leah Lappin added 13 and Emerson Sergeant chimed in with 11.

Friday's game will be our next "Game of the Week" here on 93.5 and you can hear all the action starting at 1:40pm with the pre-game show, and 2pm for tipoff. If however you would like to listen to Tuesday's thrilling quarterfinal victory, you can hear it in our "Inside The Huddle" podcast.