Hartland Eagles Girls Basketball Wins Regional Title!!
March 11, 2022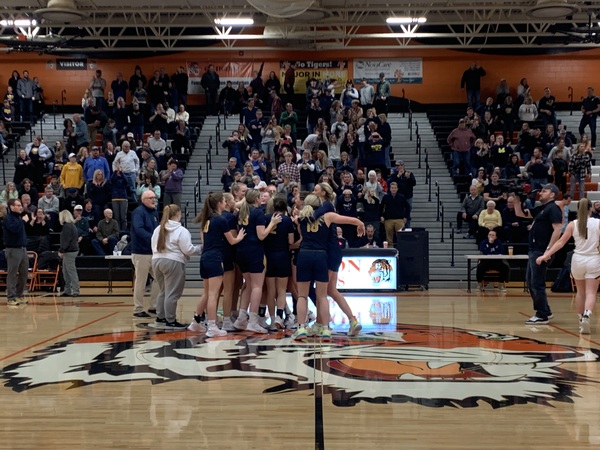 By: Ryan Wooley
Twitter: @WooleyMammoth85

It wasn't easy but in the end it was the Hartland Eagles standing tall as they beat the Clarkston Wolves 48-46 to take home another regional championship.

Hartland jumped out to an early 15-3 lead early in the second quarter, but Clarkston would respond with a 17-5 run to close the half and send both teams to the locker room tied at 20.

Clarkston would then grab a 33-31 lead heading into the fourth quarter before Lauren Sollom drained a 3-pointer early in the 4th to give the Eagles not only the lead, but a lead they would never give up.

Eventually Hartland would build a seven point advantage with 41 seconds to play, but Maddison Skorupski would score five straight to make it a two point game again (48-46) with nine seconds remaining. The Wolves would then force a turnover with under five seconds to play to set the stage for one final shot. Skorupski would inbound it and get it back from Izzy Hadley. She then would get trapped on the top of the key before dishing it over to Keira Tolmie on the right wing who missed wide left to seal the victory.

The team now will square off with Midland Dow in a quarterfinal rematch from last year at Lapeer High School Tuesday night. We will also be there to bring you all the action for our "Game of the Week". Pregame coverage comes your way at 6:40pm, with tipoff at 7pm. If you would like to listen to Friday's championship game, you can hear it in our "Inside The Huddle" podcast.