Longtime EMU Track Coach Bob Parks, a Howell Native, Dies at Age 90
March 6, 2021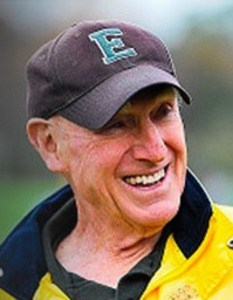 The world of track and field lost one of its giants on Wednesday, when Howell native Bob Parks died at the age of 90, Parks coached track and cross country at Eastern Michigan University for 34 years, winning six national championships and 31 Mid-American conference titles.

His daughter Sue, who is the current director of the cross country and track programs at Eastern, said in a statement that her father "touched countless lives and was a father figure and inspiration to so many."

Parks was born in Pittsburgh, but grew up in Howell graduating in 1951. Parks played football, basketball, baseball and ran track at Howell, winning a state championship in the 440 yard run, as it was known then. He ran track at Eastern and after stints at a couple of high schools and at Western Michigan, took over the EMU track program in 1967.

He coached at least one athlete who competed in the Olympics from 1968 through 2012. He is in several halls of fame, including Howell High School and at Eastern Michigan He lost only 14 of 177 dual meets as a coach and coached 110 all-Americans. A memorial service will be held later this year, his family said.