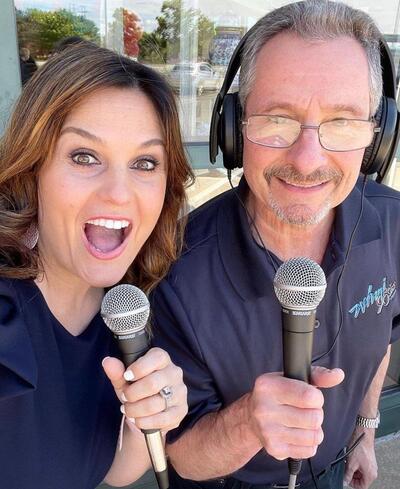 Bosh and Madison In The Morning
Bosh
Bosh grew up in New York City listening to all of the top radio DJs of the day. Eventually he would pester them on a daily basis and visit them in their studios. The DJs encouraged him to get into the business, most likely to get him out of town. He followed their advice and moved out to the middle of Pennsylvania to start his on-air radio career at a station in a town that spanned a full three blocks. His listeners included a few people and several common farm animals.
As the years went by, Bosh moved to bigger stations in cities including Lansing, Baltimore, Cleveland, Denver, Detroit and Hartford.
He lives in Livingston County with his wife Dawn, his son Jonathan, Cooper The Dog and Chloe The Cat. In his spare time Bosh is a voice actor with voice credits including national TV and radio commercials, animated features, video games, smart phone apps and toys. You've probably heard him doing some of his many character voices.
Madison June
Madison has been obsessed with music since birth. Growing up singing everything from Randy Travis, Gene Pitney, Willie Nelson to Whitney Houston and Stevie Nicks in the back of her mom's minivan. She spent late nights listening to radio legends Delilah & Alan Almond until her parents took away the radio. She is a music fanatic who loves a good book and has never met a pair of shoes she didn't love! After moving home from NYC in 2009 she has been lighting up the airwaves on pop, classic rock and country stations across the US including the legendary 99.5 WYCD in Detroit. When she isn't on the air you can find her at her family's lake house with her three kids and a fishing pole or trying out new restaurants all over Livingston County with her husband of 10 years.