Construction Continuing In Village Of Milford
May 1, 2023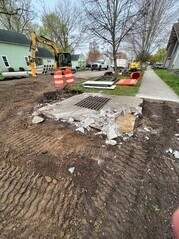 Jessica Mathews / news@whmi.com


Water main construction is continuing this week as part of a project in the Village of Milford.

The Union and Summit Street Road & Utilities Project is currently underway.

The removal of pavement, driveway approaches, and some sidewalk was completed last week on Union Street from Detroit Street to Summit Street. The driveway approaches were backfilled and compacted so residents can maintain access to their driveways.

Water main construction on Union Street also began last week and will continue this week, weather permitting. Storm sewer construction will follow in the upcoming weeks.

The Village says notices will be distributed as needed to residents impacted by construction.

The short-term closures on Summit Street will continue for the next couple of weeks, followed by a long-term closure later this year.

The Village reminds residents to make sure that all private underground utilities such as sprinklers and invisible fences are clearly marked to avoid any unnecessary damages.