Brighton Unified Basketball Game To Benefit Special Olympics
February 14, 2018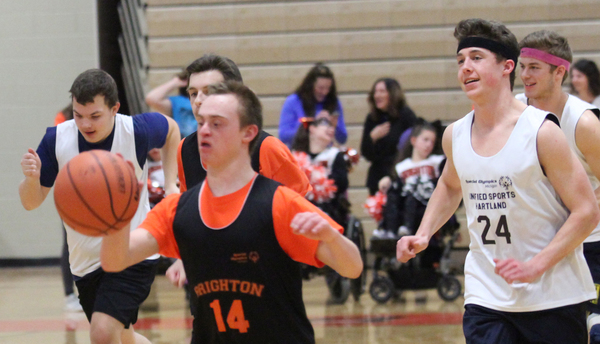 The Brighton Unified Team, a co-ed basketball team that involves students in the Brighton Area Schools' special education program, will play Northville Wednesday at the Brighton High School field house. The Brighton Unified Team consists of students with disabilities and those from the general student population.

Jody Renicker is one of three coaches of the Brighton Unified Team and is also a special education teacher at Brighton High School. Renicker says she has seen "a huge impact on the school culture" stemming from the program, saying there is now much more kindness and acceptance of people's differences on the high school campus. Brighton Superintendent Greg Gray tells WHMI that attending a Unified Team game, and seeing the camaraderie between the players with disabilities and their non-special needs counterparts, is a rewarding experience.

Admission to the game is free, but cash donations will be accepted at the door for the Special Olympics program at the high school. The event is part of Kindness Week at BHS, with special activities each day geared toward showing kindness to others while respecting each others' uniqueness. The Brighton High School Spirit Club will be handing out "Respect" bracelets at the game and Respect stickers have been distributed throughout the school.

Renicker credits Brighton Athletic Director John Thompson for being instrumental in organizing a KLAA Unified League, which consists of Brighton, Hartland, Novi, Northville and Grand Blanc. Brighton Unified also plays flag football in the fall and bocce ball in the spring. Locally, the program is now in its second year.

The parent program, Unified Sports, has grown by leaps and bounds in the last few years. It is an international program run through Special Olympics involving about 1.4 million people throughout the world. Its purpose is to foster social inclusion through practice sessions and competition with other Unified teams and to give students with disabilities a chance to participate in competitive team sports. (TT)


Photo courtesy of Jody Renicker.