Nearly 200 Attend Howell Town Hall on School Gun Violence
April 8, 2018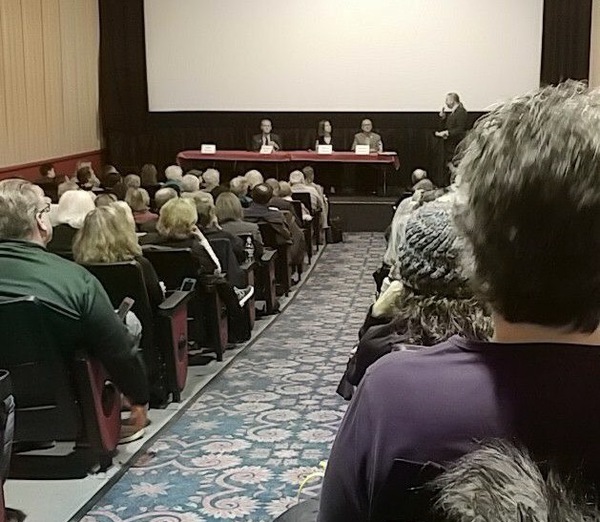 The Town Hall forum was originally scheduled to take place at the Lakelands Golf and Country Club in Hamburg Twp., but had to be moved when it became clear that the high amount of interest required a larger venue. The candidates who appeared at the Town Hall forum to state their positions and answer questions from the audience included Elissa Slotkin of Holly, a Democratic candidate for the 8th Congressional District, Christopher Smith of East Lansing, who is also a Democrat running for the 8th District, and Dr. Jim Hines, a Saginaw obstetrician and a Republican running for governor of Michigan.

Slotkin is the former acting Assistant Secretary of Defense for International Security Affairs in the Obama administration, and Smith is a professor at Michigan State University. Another invited guest, incumbent Republican 8th District Congressman Mike Bishop, was not in attendance. His office told organizers of the event that he had a conflict in his schedule. One of the questions asked of the panel by moderator Rob Osterman, a teacher in the Walled Lake School District, was whether – if elected - they would vote in favor of an outright ban on private ownership of AR-15 assault rifles. That type of weapon was used in the recent Parkland, Fla., school shooting that left 17 people dead, most of them students. Slotkin, herself a gun owner with a military background, replied that she would not support an outright ban. Dr. Hines, the lone Republican on the panel, also stated that he would not support an outright ban. Smith, the other Democratic candidate besides Slotkin for the 8th District seat, said he would vote for the ban, with some stipulations.

The town hall was organized to discuss the issue of gun violence in schools and communities and was billed as a non-partisan event open to the public. It was organized by The Town Hall Project, which helped organize the March for Our Lives demonstrations that took place around the country in late March to end gun violence in schools. (TT)
Pictured, from (L) to (R): Christopher Smith, Elissa Slotkin, Dr. Jim Hines, moderator Rob Osterman.