Tanker Hauling Sulfuric Acid Rolls on NB US-23 near Fenton
September 19, 2023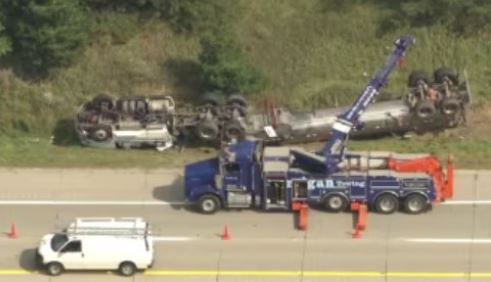 April O'Neil /news@WHMI.com

Emergency crews are working on cleanup efforts after a tanker truck hauling Sulfuric Acid overturned early this morning on northbound US-23 at Center Road (Exit 75) near Fenton.

According to the Livingston County Sheriff's Office, deputies were dispatched to the area of Northbound US-23 and Center Road in Tyrone Township around 3:34 a.m. on reports of an overturned tractor/trailer crash.

Upon arrival, deputies discovered a large tanker truck had rolled while hauling 3,000 gallons of Sulfuric Acid.

The driver had minor injuries and needed to be extricated from the cab. He was transported by EMS to Genesys Hospital in Grand Blanc.

Preliminary investigation found the tanker was registered to KAG Leasing out of Canton, Ohio and was being operated by a 38-year-old Saginaw Resident.

The driver stated that he didn't recall what happened prior to the crash. The scene indicated that the tractor/trailer crossed the entrance ramp for Center Road and shoulder before going off into the grass ditch and overturning, coming to rest on its roof.

The driver was wearing his seatbelt and alcohol and speed do not appear to be factors in the crash. The tanker was not leaking after the crash.

The freeway remains open with intermittent closures while the accident is cleared. The Fenton Fire Department reported that cleanup efforts will likely remain underway throughout the day and into Tuesday evening. Per an update from Hartland Township, the sulfuric acid will have to be moved to another container before crews can remove the overturned truck.

Multiple fire departments were at the scene to assist with HAZMAT cleanup, removal of the tanker truck, and providing additional water supply. Staff from the Brighton Area Fire Department, Fenton Fire Department, and Hartland-Deerfield Fire Authority were there, among others.

Deputies were assisted on the scene by Fenton Fire, Fenton City Police, Livingston County EMS, and MDOT.

Photo: Livingston County Emergency Management FB.