Slotkin Pays Tribute To Black Leaders, Historical Figures
March 1, 2023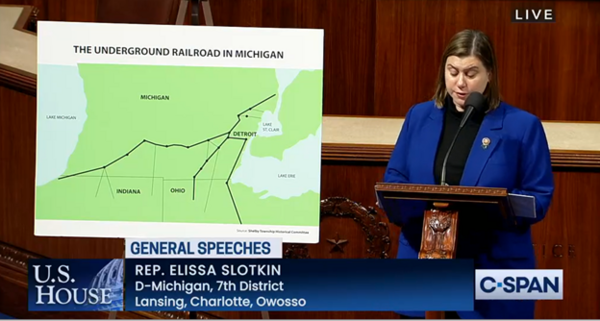 Jessica Mathews / news@whmi.com


As Black History Month came to a close in February, Livingston County's congresswoman honored the life and legacy of Howell's first black resident.

U.S. Representative Elissa Slotkin spoke from the House floor Monday night and honored ten Michiganders from the 7th Congressional District with distinct legacies as tailblazers - both past and present.

Slotkin said every February affords the opportunity to learn about, celebrate and honor black leaders and shine a light on the often-neglected contributions of African-Americans in every area of history. Slotkin said some were famous names while others were buried histories that deserve to be shared. She said their stories span the geographical breadth of the district, as well the depth of the nation's history.

From civil war heroes and escaped slaves to modern singers and scholars, Slotkin said all should be celebrated and called Michigan home.

Those honored include:
Abraham Losford of Howell, Alexander Johnson of Owosso, Hiram Archer of Olivet, Dr. Eva Evans of Lansing, Clifton Wharton, Jr. of East Lansing, Larry Carter of Lansing, Barbara Lewis of South Lyon, Carrie Owens of Okemos, Earvin "Magic" Johnson of Lansing, and Dr. Ruth Nicole Brown of East Lansing.

Abraham Losford was the first Black resident of Howell.

An excerpt of the tribute reads "today I rise in honor of Abraham Losford, the first Black resident of Howell, Michigan--a brave man who escaped slavery and used the trade he learned while captive to build a life of freedom for his family and for generations to come. It was 1849 when Abraham Losford fled north with nothing but his clippers from Kentucky where he had been enslaved and served as a plantation barber. He was captured, escaped again, and after Emancipation, returned to free his children, Benjamin and Sally. The plan was to travel to Lansing, Michigan, via the Old Plank Road and open a barber shop, but when Losford stopped in Howell to change stagecoaches, he was convinced to stay in the small town. The people of Howell promised to keep him safe if he would stay and open up a barber shop, which they sorely needed. It was a deal both sides would forever uphold. Losford and his barber business both thrived in Howell, and he became a successful, respected businessman in the predominantly white community--no small feat for a former slave in the years following the end of the Civil War".

Slotkin said it was her honor to "highlight the stories of black Michiganders who have been shaping the state from day one".

Slotkin also highlighted the state's critical role in the underground railroad – saying there are endless accounts of the state's importance to the secret network that aided thousands of people on their journey to freedom.

The full Congressional Record Statement for Losford is available in the provided link.