Senate Adopts Theis Resolution Recognizing Police Week
May 12, 2023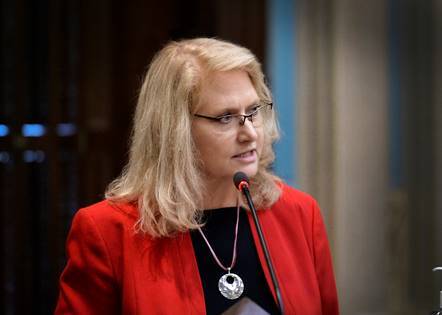 Jessica Mathews / news@whmi.com


The state Senate adopted a resolution sponsored by a local lawmaker recognizing Police Week.

The resolution was put forward by Republican Senator Lana Theis of Brighton Township and recognizes May 14th through the 20th as Police Week in Michigan.

Theis commented "Our law enforcement community has never been more important, yet more and more they are facing challenges — not the least of which being more crime — that make their jobs increasingly difficult. At a time when our communities need more officers to keep our streets, homes, and businesses safe, squads across the state and nation are unfortunately facing shortages. It is important that the law enforcement community hear from those of us who back the blue, support their service, and respect the dangers they willingly face each day to protect Michigan residents".

Theis added that "communities rely on these courageous individuals when it is difficult to stand on our own, and we are indebted to the unwavering public service of our local and state police. We are indeed fortunate and grateful for the contributions of law enforcement officers to the people of this state."

Both the Michigan House and Senate passed resolutions declaring Police Week as part of a bi-partisan effort.

Police Week was initiated by President John F. Kennedy in 1962. He proclaimed May 15th as National Peace Officers Memorial Day, while the calendar week in which May 15th falls is known as National Police Week.

The full text of Senate Resolution 48 is available in the link.