Seminar To Focus On Communicating With People Affected By Dementia
June 18, 2018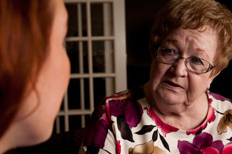 The session will be hosted by Be Our Guest Adult Day Services at 2020 East Grand River in Howell on Tuesday, July 10th, from 4:30 to 5:30pm. The program comes from the Alzheimer's Association and aims to help families reconnect with a loved one suffering from Alzheimer's disease and other dementias.

Alzheimer's is the most common form of dementia and currently is without a cure. Because the condition worsens with time, the Alzheimer's Association is offering strategies to help families better communicate with someone affected by it at every stage of the disease. The program will explore how communication takes place when someone has Alzheimer's, and how to decode their verbal and behavioral messages.

Advanced registration is required for the event and can be done by calling the Alzheimer's Association at 800-272-3900 or Be Our Guest Adult Day Services at 517-546-9910.