Local Residents Weigh In At Redistricting Public Hearing
June 9, 2021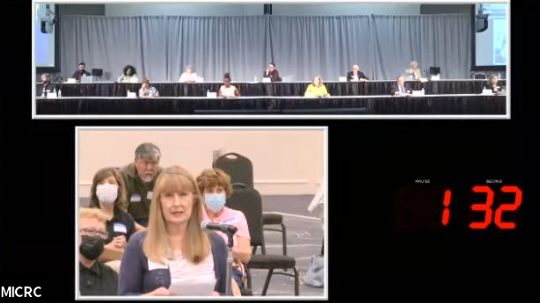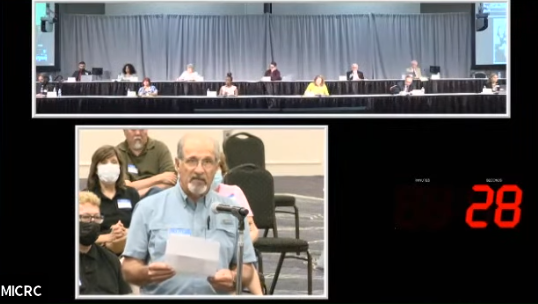 By Jessica Mathews / news@whmi.com


Livingston County was well-represented at a public hearing held Tuesday night by the Michigan Independent Citizens Redistricting Commission.

In 2018, voters passed Proposal 2 allowing voters, not legislators, to take over responsibility for non-partisan redistricting and created the Commission. It's responsible for redistricting the U.S. Congressional and Michigan House and Michigan Senate district boundaries. The group has been doing various public presentations and last night's was held at the Suburban Collection Showplace in Novi, which was the closest physical opportunity local residents had to weigh in. 65 people spoke, including roughly 20 from Livingston County and neighboring areas like Milford and Lyon Township.

The majority expressed a desire for fair, equitable maps and to basically scrap the old ones that are part of obvious gerrymandering. Themes included access to resources, relatable representation, and equity and fairness in defining communities of interest. There's been a push for people to weigh in on behalf of "communities of interest" – with many local residents urging the Commission to not split cities and townships into several different districts or those that share services such as fire authorities.

One speaker asked the Commission to consider those facing developmental or emotional barriers that need to be fairly represented rather than selfishly divided as they rely on city services, accessible transportation, and affordable housing.

Others spoke on behalf of churches as their community of interest including Connie Robinson of Hartland Township. She urged that Hartland and Livingston County remain intact and not be divided, saying if lines were drawn splitting them it would fragment their churches, schools, and partnerships.

Dan Luria told the Commission he lives in Hamburg Township but has a Brighton mailing address and sends his kids to Pinckney schools. Luria said he doesn't agree that Livingston is a rural county but it's rather urban/suburban for the southeast with a rural northwest. He said cities like Brighton and Howell belong together, which are part of a relatively dense urban center defined by the Grand River corridor. Luria said the southeast portion of Livingston is closely tied to Ann Arbor and the northwest in many cases is closer to both Novi and Lansing as it is to Ann Arbor – adding there's almost no farmland in the southeast but a great deal in the northwest. Luria said he doesn't think the suburban/urban vs rural split could be much clearer, which would result in two districts and only one township being split. He said that would be Brighton Township and create two districts of 91,000.

Before the Commission drafts any plan, it's required to hold at least 10 public hearings throughout the state. Tuesday's event marked the 9th public hearing out of a scheduled 16.

The Commission encouraged people to continue to engage in the redistricting process and utilize a new online portal to provide input. Residents can submit written comments, draw or upload maps and offer comments on other maps or submissions. The Commission will continue to receive email, mail, and/or paper submissions and comments from the public. Upcoming hearings and the portal can be accessed on the Redistricting Commission's website. That link is provided.