Storey Leaves Pack of Dogs Program to Devote Time to Family
May 24, 2023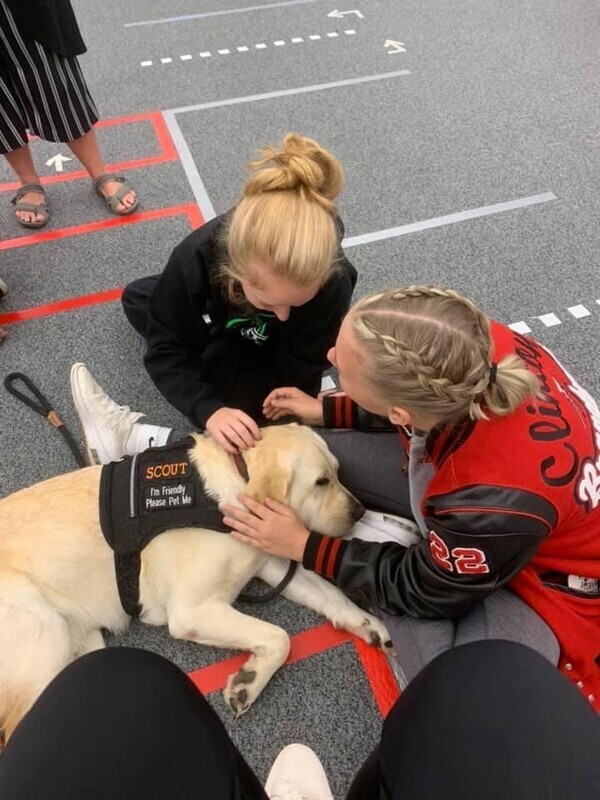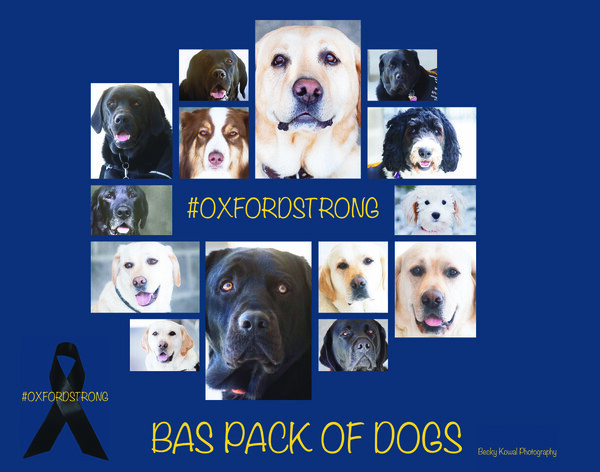 By Tom Tolen / news@whmi.com

The person responsible for starting the Pack of Dogs program in the Brighton Area Schools and nurturing it into one emulated by other school districts across the state and even nation, is handing off the baton.

Karen Quinn Storey, who founded the program 15 years ago with the ultimate dream of a social-emotional learning dog in every district school, says she is stepping down as coordinator to devote more time to her family. No one has been named to replace Storey as POG coordinator at this time. Two of her student-athlete sons, Jack and Easton, will be entering college in the fall, and Storey says she wants to have the opportunity to watch them play at the college level.

Despite that desire, Storey says she will continue to be active in the POG program as the handler of Chevy - one of the 15 social-emotional learning dogs assigned to individual schools in the Brighton Area Schools District. And Storey, as an educator, will continue to be in charge of the Multi-Tiered System of Supports, or MTSS, program, at Maltby Intermediate School.

Storey says she will be able to carry with her through life many happy memories associated with the therapy dog program. As she told her friends and supporters on social media, Storey initially started the program with the limited goal of helping her special education students at Maltby. She sought and received help from Dave Scrivano, the CEO of Little Caesars Enterprises, which resulted in the purchase of Caesar, Brighton's first social-emotional learning dog. The dogs, which are required to undergo one year of training, cost about $8,000 each.

What is unique about the POG program is that although their handlers take them to their own homes when school is not in session and during the summer, the dogs are owned by the school district. As far as is known, the Brighton program, now with 15 dogs, is the largest in the state — and possibly even the nation. Storey said, in her words, "I have watched it morph into a program that is life changing for students and staff from all over Michigan and beyond." Storey says representatives of school districts wanting help to start their own program have come from as far away as Pennsylvania and even Canada.

The Brighton dogs have been driven to other schools around the state to comfort students in the wake of a tragedy. In February of this year, the Brighton dogs were transported to the main library at Michigan State University, where three students had been shot and killed and five others were wounded by a lone gunman. In November of 2021, the Pack of Dogs were the first therapy dogs invited to the Oxford Schools after a mass shooting in which four students were killed and seven other people — mostly students — were wounded. The shooter was a 15-year-old student whose parents had given him a handgun "as a Christmas present."

In September 2021 the Brighton therapy dogs were called to the Clinton
Community Schools in Lenawee County, where two students had died and two others were injured in a highway crash. And the dogs were asked to go to the Grosse Pointe School District in 2019, when two boys lost their lives in a tragic house fire. In each instance - MSU, Grosse Ponte, Clinton and others — school staff and leadership expressed thanks to the Pack of Dogs and their handlers for making a major difference in how their students were able to deal with a traumatic situation.

As Oxford Community Schools counselor Katelyn Malburg told Storey, "Oxford is beyond blessed for your caring heart and continuous support to assist us during our recovery! If it was not for you, we would not be able to start our Oxford Wildcat Pack (of therapy dogs) that brings so much joy to our district each and every day."

Photo #1: Brighton Area Schools social-emotional learning dog "Chevy" comforting a Clinton Community Schools student; photo #2 - Brighton therapy dog "Scout" surrounded by Oxford Middle School students; bottom picture: BAS Pack of Dogs in composite photo.