Tanker Up-Righted & Removed; US-23 Open
September 19, 2023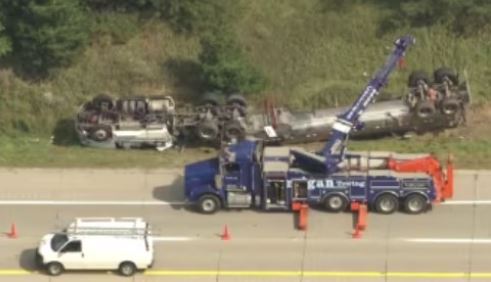 Jessica Mathews / news@whmi.com


UPDATE 7:30pm: Northbound US-23 and Runyan Lake Road have re-opened. Livingston County Emergency Management says "US 23 is open. This event has ended". Anyone requested to evacuate from Runyan Lake addresses may return home.



Operations are continuing in the clearing of an overturned tanker truck on US-23 at Center Road in Tyrone Township.

Livingston County Emergency Manager Therese Cremonte told WHMI responders have been able to right the tanker and get it on its wheels. She said there does not appear to be any breaches or loss of product.

Southbound US-23 and Old US-23 have re-opened in the area.

The tanker overturned early this morning around 3:30am and was hauling sulfuric acid. It's a very slow process due to those industrial chemicals. Cremonte said responders have been working to mitigate the situation, get the tanker up safely, and get the product where it's meant to go.

Cremonte said as soon as they get the tanker removed and on its way to Midland, then northbound US-23 and Runyan Lake Road will be re-opened.