'Never Forget 5K' Takes Place Saturday in Genoa Township
September 15, 2023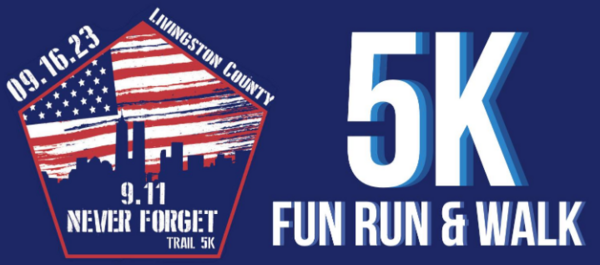 April O'Neil / news@WHMI.com

This weekend, Livingston County Veteran Services, Howell Recreation, and local first responders are hosting the first annual 9/11 Never Forget 5K Trail Run/Walk.

The race will be held Saturday September 16 at 8:00 a.m. at the Fillmore County Park, located at 7075 McClements Rd. in Genoa Township.

The event recognizes the tragic events of September 11th and aims to honor those heroes and their sacrifices. Veterans Services Director Ramon Baca told WHMI he's always respected firefighters, police, and EMS as they're the ones initially running into harms way.

"9/11 had a profound effect on all of us as it changed out our lives forever; it changed those who were born thereafter forever – more than they even know" said Baca.

A portion of the raised funds will benefit Livingston County Parks. Various food trucks and vendors will be on-site, along with raffle baskets and tickets for sale (cash only).

More information can be found at the provided link.