Mike Rogers Calls For Biden To Receive Presidential Daily Briefings
November 11, 2020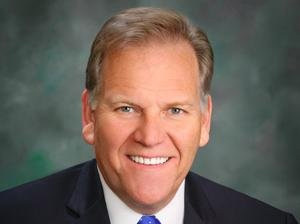 By Jon King / jking@whmi.com


The man who represented the 8th District in Congress for 14 years has added his name to those calling on the Trump Administration to acknowledge Joe Biden as the president-elect.

In a tweet Tuesday, former Congressman Mike Rogers said that Biden should be receiving the presidential daily briefings at the White House, something that has yet to take place despite decades of precedent.



Our adversaries aren't waiting for the transition to take place. @JoeBiden should receive the President's Daily Brief (PDB) starting today. He needs to know what the latest threats are & begin to plan accordingly. This isn't about politics; this is about national security.

— Mike Rogers (@RepMikeRogers) November 10, 2020



Rogers, a lifelong Republican whose family had been a mainstay of the Livingston County GOP, sent the tweet as both the White House and many prominent Congressional Republicans refuse to acknowledge Biden as president-elect. The General Services Administration has not signed off on transition funds and resources for Biden's transition team, and on Tuesday, Secretary of State Mike Pompeo suggested to reporters that the administration would "transition to a second Trump administration." He later walked back those comments in an interview with conservative radio host Tony Perkins. "Our adversaries should know that we're ready, we're continuing to work, we'll work all the way through January. And then on January 20th, we'll have a transition, whether it's to a Trump administration — a second Trump administration as I spoke about today — or to an administration led by former Vice President Biden," he said.

Only a handful of Republican senators have acknowledged Biden's victory, including Sens. Mitt Romney of Utah, Ben Sasse of Nebraska and Lisa Murkowski of Alaska.

Former CIA officer David Priess, author of "The President's Book Of Secrets" told NPR that the tradition of providing the incoming the brief dates back to the 1960s when it was first created. He also noted that even in 2000, while the election returns in Florida were still being contested, then-President Bill Clinton authorized intelligence briefings for George W. Bush before he was officially declared the winner.