Michigan Trails Week Underway
September 20, 2021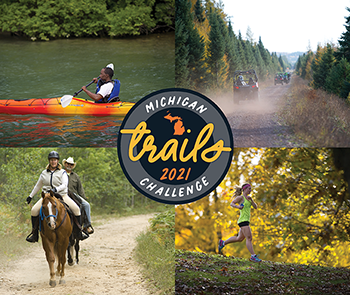 By Jessica Mathews / news@whmi.com


Livingston County residents and others across the state are encouraged to take part in Michigan Trails Week, which is now underway and said to be the perfect time for people to hit their favorite trail or find an all-new adventure.

Trails Week is an effort to elevate Michigan's reputation as the Trails State for eight full days. It runs through Sunday the 26th.

Non-Motorized Trails Grant Coordinator for the DNR Parks & Recreation Division Dakota Hewlett tells WHMI Trails Week celebrates Michigan's extraordinary trails system and recreational opportunities that provide safe, outdoor space for recreation, exercise and fun. He there are 13,000 miles of state-designated trails that include off-road vehicle riding, biking, horseback riding, hiking, snowmobiling and cross-country skiing – adding basically anything that anyone can think of to do out on a trail, there's an opportunity somewhere in Michigan to enjoy the outdoors and trails.

Hewlett encourages people to get outside and perhaps find a new trail or park they've never been to before – adding this is a great time to enjoy Michigan's outdoor recreation resources before the weather starts to get cold.

To give Michiganders one more reason to explore trails during this tribute week, Hewlett says they're holding the Michigan Trails Week Challenge for the second year in a row. It's a free challenge focused on getting people outside on trails and promoting their use. Participants register and then log in during the week to record how many miles they've done on trails. Hewlett says throughout Trails Week, the goal is that all participants will collectively travel 100,000 miles on Michigan trails.

He noted there are some great prizes participants can win from various partners and within the DNR such as camping, and registrations to 5K's and outdoor events. Hewlett says there are also donation opportunities toward trail projects throughout the state if people are so inclined. The drawing for prizes will be held Friday, October 1st.

More information is available through the provided link.