Motorists Encouraged To Buckle Up - Every Trip, Every Time
August 2, 2021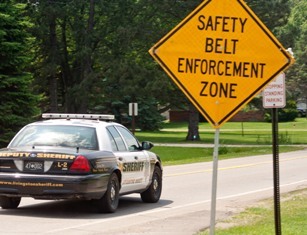 By Jessica Mathews / news@whmi.com


The Michigan Office of Highway Safety Planning is working to boost compliance after seat belt use in the state dropped to its lowest point in 17 years.

Michigan's seat belt use rate decreased from 94.4% in 2019 to 92.6% in 2021. That's the lowest rate since 2004. The results came from a grant-funded direct observation study conducted by Michigan State University in which researchers go to a variety of places around the state and directly observe behaviors. Michigan's all-time seat belt use record was 97.9% in 2009. Every 1% increase is said to translate to an estimated 10 fewer traffic deaths and 100 fewer serious injuries.

OHSP Communication Manager Kendall Wingrove tells WHMI the numbers are moving in the wrong direction and everyone in the traffic safety community is working to try and turn it around and get people to start buckling up again. He says they know people aren't buckling up and they're not sure why – adding there's no single answer but people have forgotten good driving habits and they take the information very seriously.

Wingrove says about a decade ago, Michigan actually led the United States in 2009 with seat belt use nearing 98%. He says they want to get people thinking like that again and move numbers back up but for whatever reason in 2021, people are not wearing their seat belts as often as they used to and they're also speeding much more on highways. Wingrove noted that traditionally men age 18 to 34 are the most difficult to reach with public safety messages and within that, men of the same age group who drive pick-up trucks are the most complex to reach according to focus groups and research done in the past.

In 2020, there were 98 more fatalities overall than 2019 and preliminary numbers for 2021 look even higher so Wingrove says they want to do everything they can to encourage people to practice good driving habits and try to bring numbers back down – adding wearing a seatbelt is one of the easiest ways to help reduce fatalities on roadways. He says they encourage people to buckle up every trip, every time - not just when heading out of town but for small trips in their community.

Wingrove says the plan moving forward is to educate the public as best they can through public service announcements, paid advertising and social media messaging and spread the word that officers will be out enforcing state safety belt laws. He says after weeks of educating the public about upcoming enforcement campaigns, then they actually enforce – adding it's never a surprise or any stealth operation.