Michigan Legislature Approves $1.2 Billion Bill To Combat COVID-19
February 10, 2022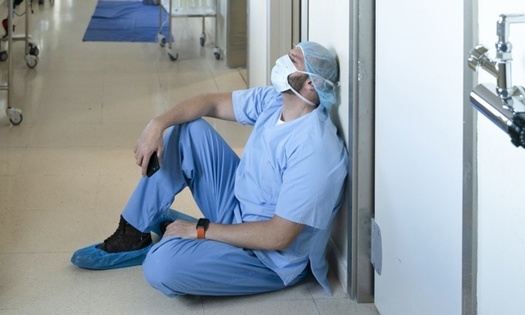 By Jessica Mathews / news@whmi.com


Michigan lawmakers passed a $1.2 (B) billion spending bill this week to combat COVID-19; including $300 million to help hospitals, nursing homes and other health care facilities give recruitment and retention bonuses to workers.

The pending allocation is the latest from aid that was enacted by Congress and President Joe Biden nearly a year ago. The measure includes recruitment and retention funds; $150 million for school safety and the purchase of coronavirus tests to keep in-person learning intact; $100 million for early treatment of patients with therapeutics to blunt the worst effects of the virus; and $70 million in grants to adult foster care facilities and homes for the aged.

Nursing homes would receive $39 million to improve air quality, create isolation areas and negative pressure rooms, and convert multi-resident rooms to single-resident rooms. Hospitals with the most COVID-19 patients would be prioritized for $10 million in pilot funding to install ultraviolet lighting in rooms. Roughly $10 million would be used to plan and design a new state public health laboratory.

Republican State Representative Ann Bollin of Brighton Township, in an attached release, the plan will expand access to COVID treatments like monoclonal antibodies and help ease worker shortages in the health care system. She commented that there are many promising treatments, like monoclonal antibodies, that are helping COVID patients recover quicker and more completely. Bollin said the plan will boost access to those treatments and make them more readily available to people in the community, adding individuals should have easy access to all treatment options.

Bollin added "Nursing homes and long-term care facilities house some of our most vulnerable residents. These funds will help them make necessary steps to protect residents, like installing air filters, purchasing respirators and converting multi-bed units into single-occupancy rooms".

The Michigan Health & Hospital Association said the state had 875, or 4%, fewer staffed inpatient beds in November than it did a year before due to employee shortages. Many health care facilities were said to have 20% or higher workforce vacancy rates.

The state budget office says the bill will be funded with half discretionary and half non-discretionary federal pandemic dollars - leaving Michigan with $4.7 billion of the $6.5 billion with which it has broad flexibility and $1.2 billion in remaining non-discretionary funding.

The Republican-led Senate and House approved the legislation 36-2 and 98-6. Democratic Governor Gretchen Whitmer will sign the bill after senators concur with a House change.

The votes came as infections and hospitalizations have declined from pandemic highs. The number of hospitalized adults with confirmed cases in Michigan, around 2,500, was down from nearly 4,600 three weeks ago. The seven-day average of new infections was 6,812 on Monday - about a third of the peak.

The Associated Press contributed to this report.