Slotkin Slams Michigan GOP For Comparing Gun Reform To Holocaust
March 23, 2023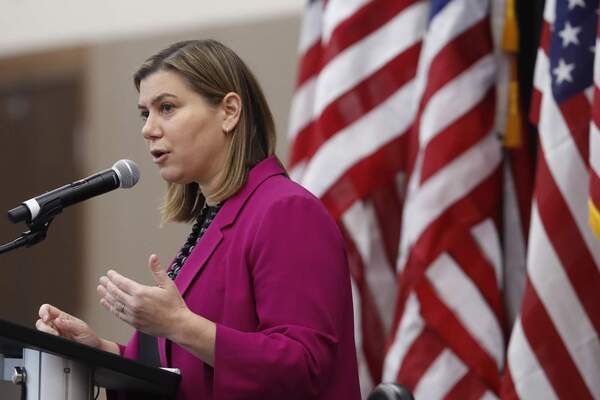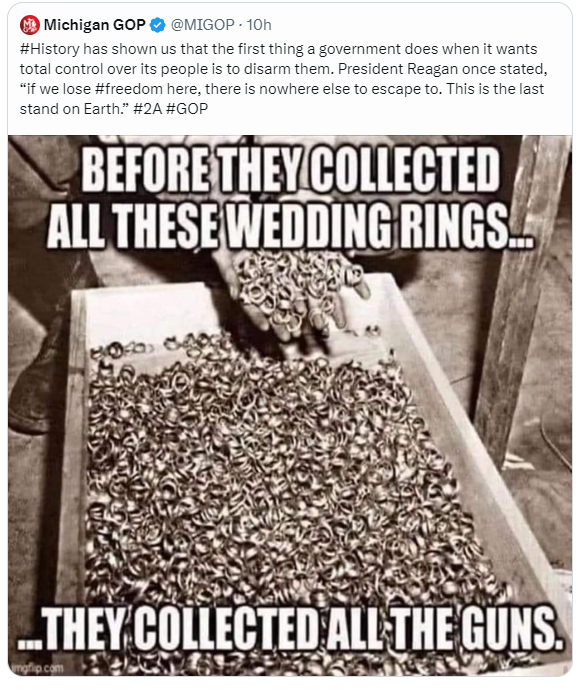 Jessica Mathews / news@whmi.com


Livingston County's Congresswoman is among those calling out the Michigan Republican Party for posts on social media Wednesday that compared the Holocaust to gun safety measures being considered in the state.

The posts, shared on the state party's official Facebook and Twitter accounts, inaccurately claim that Democrats leading the Legislature are trying to disarm Michigan gun owners. A photo accompanying the message appears to match an image stored by the United States Holocaust Memorial Museum, showing rings confiscated from Jewish prisoners in a Nazi concentration camp.

The party has received backlash from political leaders on both sides of the aisle. Democrats and Republicans swiftly condemned the posts and called for them to be taken down.

Among them is Democratic 7th District U.S. Representative Elissa Slotkin, who is Jewish. She wrote on Twitter "Comparing gun safety measures to the mass extermination of 6 million people is hateful and ignorant, and it comes from party leaders who are out of ideas and catering to the fringe of the fringe. Delete it, apologize, and figure out what kind of party you want to be".

Slotkin has re-introduced her Safe Guns, Safe Kids Act - a bill requiring safe and proper storage of firearms in households to prevent children and others from illegally accessing the weapon. She's further co-sponsoring the Bipartisan Background Checks Act of 2023 and the Assault Weapons Ban of 2023.

The gun safety package was introduced by Democrats in response to two school mass shootings in a 15-month span, including last month's Michigan State University shooting that took place less than 4 miles from the state Capitol. It would add universal background checks, requirements for safe storage and extreme risk protection orders, also known as red flag laws.

Red flag laws are intended to temporarily remove guns from people with potentially violent behavior through a judge's order and at the request of law enforcement or family members in hopes of preventing them from hurting themselves or others.

The 11-bill package was passed by the state Senate last week and still needs to be approved by the Democratic-led House before heading to Democratic Governor Gretchen Whitmer's desk — who has said she will sign the legislation.

Matt Brooks, chief executive of the Republican Jewish Coalition, responded to the Twitter post, saying it "is absolutely inappropriate and offensive and should be taken down immediately."

The Anti-Defamation League separately tweeted that "using the Holocaust as a way to score cheap political points in the debate over gun control is unacceptable and trivializes the memory of millions murdered by the Nazis."

Recently-elected Michigan GOP Chair Kristina Karamo wrote on Twitter that the state party "stands by our statement" and added that the Democratic party "currently fights to murder unborn children" and is attempting to "disarm us."

A former community college professor, Karamo lost her secretary of state race in the 2022 midterms by 14 percentage points after mounting a campaign filled with election conspiracies. After winning the GOP chairwoman seat, she inherited a state party torn by infighting and millions in debt.

The Associated Press reports the social media posts follow a recent wave of comparisons to the Holocaust and Nazis that scholars and organizations have said are concerning.

Pope Francis compared Nicaragua's repression of Catholics to Adolf Hitler's rule in Germany earlier this month, while in Britain, a BBC sportscaster likened the nation's asylum policy to 1930s Germany, resulting in his brief suspension and a national uproar. Earlier this month, a man was charged with threatening the lives of Jewish Michigan public officials, after tweeting that he would "carry out the punishment of death to anyone" who is Jewish in the state's government.

Michigan had the fourth most reported white supremacist propaganda of any state in 2022, according to the Anti-Defamation League.