US-23 Flex Route Project Ramping Up In Livingston County
May 4, 2023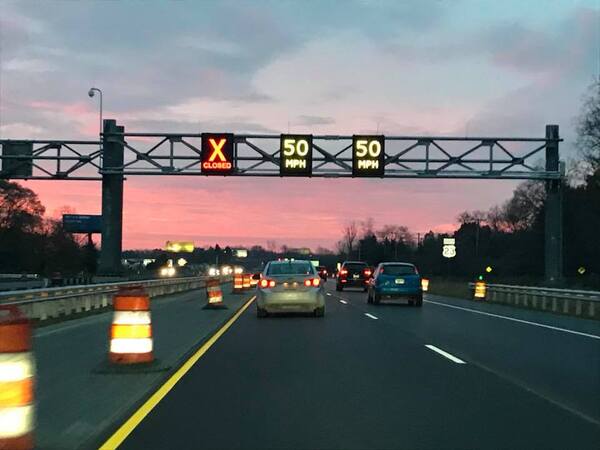 Jessica Mathews / news@whmi.com


Work is ramping up on the US-23 Flex Route project in Livingston County.

MDOT built the first Flex Route on US-23 between M-14 and 8 Mile Road in 2016 and 2017. It's now being extended from north of 8 Mile Road to I-96 as part of a three-phase project.

Various traffic restrictions were implemented this week as part of the start of work that included single lane closures and intermittent closures in the Northfield and Green Oak Township areas that have resulted in significant traffic back-ups as of late.

A single-lane closure on northbound US-23 between M-36 (9 Mile Road) and I-96 is expected to be in place until 6am Monday. A single-lane closure on southbound US-23 between M-36 (9 Mile Road) and I-96 will be effect daily from 9am to 10pm. There are also intermittent closures taking place daily at the I-96, Lee Road, Silver Lake Road, and M-36 interchanges from 9am to 10pm. Motorists are advised to seek alternate routes if at all possible.

MDOT's Flex Route Project Manager Jack Rick told WHMI the first phase is a 4-mile segment from north of Silver Lake Road and the Huon River all the way up through Spencer Road, where work will be completed by the Spencer Road bridge overpass.

The current closures are part of the preliminary work needed to push traffic onto the outside shoulders of US-23. Rick says they'll be putting in a temporary concrete barrier so there's a safe work zone once the traffic shift occurs. Once full shifts are in place onto the shoulders, he says they'll be able to maintain two lanes of traffic for the most part in both directions. Rick noted that there will be some potential weekend shutdowns needed to allow work to occur, as well as single lane closures.

Rick asked for patience as they're ramping up the start of work as their goal is to maintain traffic as safely as possible but also a safe work zone for the contractors and crews overseeing the work.

Rick says while there have been traffic back-ups associated with the recent initial closures – more so during peak drive times on southbound US-23 in the morning and northbound in the afternoon - things should even out eventually. He noted that once they push traffic to the shoulders and start the two-lane configuration that will help ease congestion - but he also cautioned that it will take a little bit of time to get to that point.

Rick said MDOT is excited to have the project move forward and again stressed they recognize that it's difficult for commuters but after the first initial stages to get traffic situated are done, things will get better. He said they just ask that motorists slow down and be as safe as possible through the construction work zones as they have a lot of work to do and ask for everybody's patience.

The larger total project involves a $162 (m) million investment to extend the US-23 Flex Route from north of 8 Mile Road to I-96. It consists of just under 7.5 miles of hot mix asphalt reconstruction and rehabilitation, shoulder widening, interchange reconfigurations, bridge replacement, and rehabilitation at nine structures.

The US-23 Flex Route Phase 2 extension focuses on traffic safety, operations, infrastructure condition, and the directional peak period congestion along the US-23 corridor. Overall completion is targeted for January of 2026.

Funding for the project is made possible by Governor Gretchen Whitmer's Rebuilding Michigan program to rebuild the state highways and bridges that are deemed critical to the state's economy and carry the most traffic. The investment strategy is aimed at fixes that result in longer useful lives and improve the condition of the state's infrastructure. 

A link to the project page is provided.