I-96 Flex Route Closures Begin Wed/Thurs - Delays Expected
March 15, 2023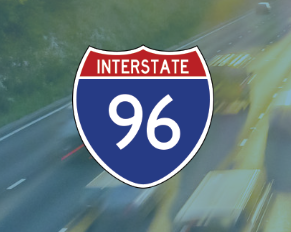 Jessica Mathews / news@whmi.com


Work on the I-96 Flex Route project begins again with lane closures and major ramp closures on I-96 between Kent Lake Road and I-275.

The Michigan Department of Transportation says from 9am to 2pm today, westbound I-96 will have one lane open from Beck Road to Kent Lake Road for pavement markings to be placed before a weekend traffic shift. Ramps will be closed intermittently. The work is weather dependent.

Then, MDOT advises that on Thursday from 9am through late afternoon, eastbound I-96 will have one lane open from Kent Lake Road to Milford Road for an environmental clean-up from a recent crash. That work must be completed before the eastbound I-96 traffic shift this weekend from Kent Lake Road to I-275.

Officials stress that eastbound I-96 is expected to have big backups and drivers may want to try an alternate route, such as Grand River.

Then beginning at 6am this Saturday, eastbound I-96 from Kent Lake Road to Wixom Road will be reduced to two lanes through late summer.

Also from 6am to 6pm this Saturday, eastbound I-96 will have one lane open from Wixom Road to I-275 for pavement markings and traffic shift preparation. Once that is completed, eastbound traffic will be shifted across the freeway with both directions of traffic sharing the current westbound side and two lanes open in each direction through late fall.

The eastbound traffic shift requires the closing of multiple ramps that MDOT says will heavily affect local traffic wanting to enter I-96 through late summer. Those include:

Wixom Road ramp to eastbound I-96
Beck Road ramp to eastbound I-96
Eastbound I-96 ramp to Beck Road
Northbound and southbound Novi Road ramps to eastbound I-96
Westbound M-5 to westbound I-96 - closed through late fall

The detour for the on-ramps is south to Grand River, then east on Grand River to northbound Novi Road, then north on Novi Road to 12 Mile Road, then east on 12 Mile Road to M-5, then south on M-5 to I-96/696.

MDOT advises that once the traffic shift is completed Saturday evening, both eastbound and westbound I-96 from Kent Lake Road to I-275 will have two lanes open and sharing the westbound side of the roadway.

Funding for this project is made possible by Governor Gretchen Whitmer's Rebuilding Michigan program to rebuild the state highways and bridges that are critical to the state's economy and carry the most traffic. MDOT says the investment strategy is aimed at fixes that result in longer useful lives and improves the condition of the state's infrastructure. Based on economic modeling, this $269 million investment is expected to directly and indirectly support 3,416 jobs.

Motorists are cautioned that there may be additional changes to this stretch of the project. For up-to-date information on the I-96 Flex Route, visit the provided link.