Local Veteran Named 2018 "Champion For Children"
April 24, 2018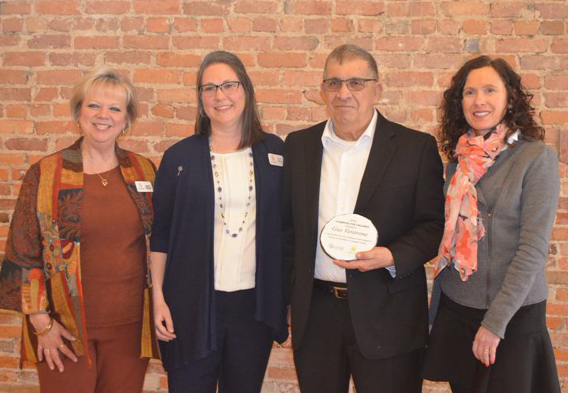 A local veteran has been recognized for his devotion to helping children in Livingston County.

Gus Ventrone was recently named the recipient of LACASA's 2018 Champion for Children award in honor of his kindness to and support of the children and staff of Navigator Upper Elementary School in Pinckney, as well as his support of families in the Pinckney and Livingston County communities. Ventrone was presented with the award at the Child Abuse Prevention (CAP) Council's "Champion Awards Luncheon", held at the Howell Opera House earlier this month. The Champion for Children award is a joint effort between the CAP Council and the Great Start Collaborative of Livingston County to recognize outstanding individuals who devote significant time and energy to helping children in Livingston County.

Ventrone, a Vietnam veteran, works at Navigator Upper Elementary School as one of the lunchroom supervisors. He has led fundraisers to support needy families and to replenish a community food pantry program. Ventrone's nomination letter for the award is said to have stood out to the selection committee partly due to the fact that five teachers and 65 students contributed supportive and appreciative comments to the nomination.

One teacher stated that Ventrone is "a positive life force for the building," and that he "takes extra special care of each and every student and teacher with his infectious enthusiasm, generosity, and never ending kindness." Thank you notes from students to Ventrone include comments like "You are very kind, hand out candy, and make me smile," "You are nice and like high fives," and "You know how to solve problems."

As one selection committee member said, being able to connect with children in a positive way IS prevention. "Mr. Ventrone shows up every school day to provide not only popcorn and candy, but also smiles, high-fives, problem solving, encouragement, and support through the simple acts of sitting with and listening to children."

Photo credit: LACASA website.
From left- LACASA President & CEO Bobette Schrandt; CAP Council Coordinator Holly Naylor; Champion Award Recipient Gus Ventrone; Great Start Collaborative Coordinator Robin Schutz.