Sheriff's Office Gifted Comfort Teddy Bears For Child-Involved Cases
March 19, 2018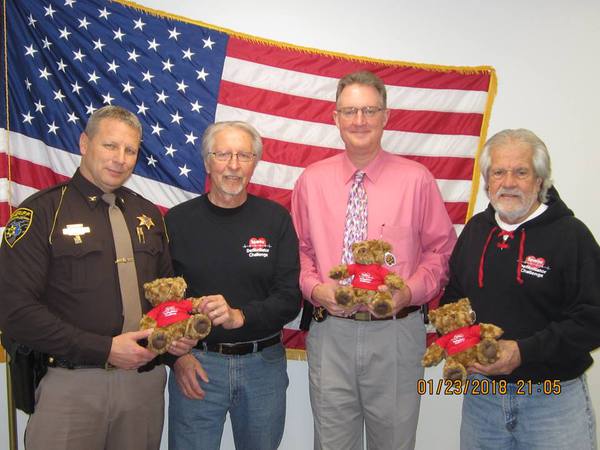 The Livingston County Sheriff's Office has received a donation of comfort teddy bears that will be used to soothe children involved in high-stress cases.

The SPARKY Bears were recently gifted to the Sheriff's Office by Sparky Defibrillator, a non-profit organization whose goal is to raise funds to purchase and distribute automatic external defibrillators, or AEDs. The organization has also made past donations to the Sheriff's Office to supply its first responders with the life-saving devices. They have received nine AEDs to date.

In a Facebook post, the Sheriff's Office says their goal is to equip all patrol vehicles with an AED as it could decrease response time for cardiac arrest victims, thereby increasing the survival rate. An incident of that nature led to the creation of the Sparky Defibrillator Challenge.

The annual fundraiser resulted from a near tragic event in which George Stefureac went into sudden cardiac arrest at Kensington Valley Ice House. His teammates and a fast acting ice rink employee helped save his life by quickly administering CPR and using an AED that was in the building. Stefureac and others later launched the Sparky Challenge, raising funds to purchase AEDs and distribute them throughout Livingston County.

This year's Sparky Defibrillator Challenge will be held at the Hartland Glen Golf Course on Saturday June 2nd. Call (810)610-8633 for more information. (DK)


Facebook photo.
Pictured left to right: Livingston County Undersheriff Jeff Warder, Sparky Defibrillator representative George Stefureac, Sheriff Mike Murphy and Sparky Defibrillator representative Ron Pastor.