Livingston County Deputy Honored for Saving Lives of Two People
September 9, 2023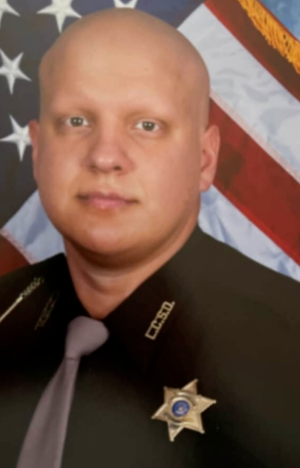 April O'Neil / news@WHMI.com

Deputy Lonnie Chapman was honored by the Livingston County Board of Commissioners for his acts of heroism in saving the lives of two people trapped in a burning vehicle last April.

Deputy Chapman was honored with a plaque on August 28th during the Commissioner's regular meeting in Howell. The Board recognized him for jumping into action to rescue the two individuals were became stuck underneath the vehicle following a wreck in Howell Township.

Deputy Chapman was patrolling the area of Byron Road on April 10th when a truck drove by, travelling at an excessive rate of speed. He turned around to pull the vehicle over near the intersection of Marr and Marwood Road, when the truck flipped and crashed into a tree.

The truck then caught on fire with the driver and passenger still inside.

Deputy Chapman was able to quickly help the passenger out of the burning truck without issue, but the driver's foot remained stuck underneath the dash.

Acting quickly with the vehicle still on fire, Deputy Chapman was able to climb inside, free the driver's foot, and drag him to safety.

EMS and first responders were on the scene to transport the driver to the University of Michigan Hospital with a broken ankle and leg injuries.

The truck burned so intensely that the license plate completely melted, and the vehicle was deemed a total loss.

Sheriff Mike Murphy said following the incident, "There's no question that Deputy Chapman saved the driver's life. We're proud that he's part of our team."