Livingston County Passes Amended Resolution For LCHD Funding
September 5, 2023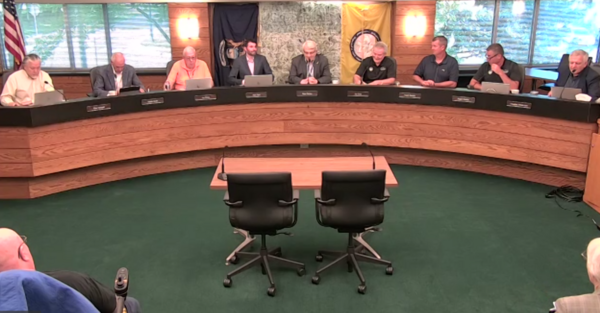 April O'Neil / news@WHMI.com


The Livingston County Board of Commissioners passed an amended resolution to accept $718,680 in funding from the Michigan Department of Health and Human Services in support of Livingston County Health Department (LCHD).

The funds are designated for LCHD's Response to Emergency Threats, including measures toward preventing communicable diseases and environmental emergencies in Livingston County.

During their regular meeting on August 14, Commissioners joined LCHD Director Matt Bolang, to discuss a proposed amendment to the resolution, as drafted by Commissioner Nick Fiani. The amendment used similar verbiage of an amended resolution that passed in September of 2021, when MDHHS funds were proposed in the wake of the COVID-19 pandemic.

Bolang said this year, the funding is not necessarily specific to COVID response; but rather, to take care of the integrative needs, such as staffing costs, required throughout the department.

Commissioner Fiani drafted a proposed amendment to the resolution, adding a total of seven items, two of which are new for 2023. One asks that funding not be used toward "providing persons 0-18 years of age with gender altering or elective-abortion services." The other, "to inhibit efforts to appeal mandates or policies at the County or state-level, in which activities are challenged as a violation of constitutional rights."

Another item asks that funding not be used to, "Implement policies which are more restrictive than state policies which cause healthy students to be excluded from school and extra-curricular activities."

Bolang mentioned "We have the authority and state requirement to restrict children that are unvaccinated for some diseases, like mumps, for example. Depending on the spread, and what contact that student had with non-vaccinated children, there is some requirement on behalf of our department to follow through with kids to protect those who are not vaccinated, because if they came in contact with those children, it (the disease) could infect them more rapidly."

Commissioner Gross urged his colleagues to "tread lightly" as there was some conflict from various schools, and residents, regarding the similar 2021 resolution. "I'm in agreement with most of the items because they're a replicate of what we did two years ago. And what we did is still in effect. I trust the judgement of our health officer, that he knows we reside in a conservative county. He knows this board is conservative and I trust his judgement to recognize situations that may be of concern to us and act in our best interests."

The Commissioners tabled the resolution for the purpose of drafting agreeable language.

The full board met again on Monday, August 28 and heard over 15 Livingston County residents speak during the call to public, mostly in support of the amendment, urging Commissioners to either not take the funding at all, and if the resolution is passed, to do so as amended by Fiani.

The amended resolution passed 8-1.

Minutes after it was passed, Commissioner Doug Helzerman mentioned that Bolang's concerns were not likely an issue that will arise in the future.

"This board chose Matt to be Health Director because we had trust in him. It wasn't a unanimous vote, but Matt has showed us in his tenure at the County to be reasonable. I think the things that may be objectionable or possible objections from Matt's point of view, might not ever come up. That's why I feel competent that Matt understands the spirit of this, and will work within that spirit," said Helzerman.

The LCBC's Meeting Agenda can be found at the provided link.