Committee Discusses Adding Prayers At County Board Meetings
January 10, 2023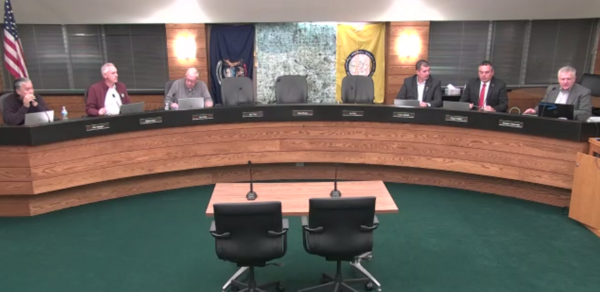 Jessica Mathews / news@whmi.com


The possibility of incorporating prayers into future meetings of the Livingston County Board of Commissioners was discussed by Committee last night.

Currently a "Moment of Silent Reflection" starts off regular board meetings. Last week, Vice Chair Jay Drick put forward a motion to amend the board agenda to state "Moment of Prayer" instead. The item was forwarded to the General Government & Health and Human Services Committee, which met Monday night to discuss the topic.

Committee Chair Jay Gross led the meeting, with Commissioners Frank Sample, Wes Nakagiri, Doug Helzerman, and Martin Smith in attendance. Due to recent changes made to board rules, there are now five commissioners on different committees, instead of the previous three or four. All Commissioners also have the ability to attend Committee meetings and be part of the discussion on items but cannot make motions or vote.

It was stated that a memo was received from legal counsel indicating there was plenty of evidence that it is legal to have a prayer.

Commissioners Helzerman, Nakagiri and Chair Dave Domas all spoke in favor of the change and noted that Congress, and the state Senate and House, open their sessions with prayer. Smith stated he didn't see a need to bring anyone in and felt Commissioners could handle it.

Gross stated he was personally quite satisfied with the moment of silent reflection, which personally gives him an opportunity to say a brief prayer, and he had a variety of concerns. He stated that it could become cumbersome trying to schedule when and who would lead prayers but also the timing – noting meetings already often run very late into the night and he would be reluctant to have someone take 3 to 5 minutes to offer a personal prayer.

Three people spoke during Call to the Public.

Lori Cowan of Unadilla Township commented that the country, state, and county are made up of a diversity of religions and beliefs. She told Commissioners that imposing a prayer of their beliefs at a governmental meeting is "fundamentally wrong" and stated people already have the freedom to practice the faith of their choosing at any time - without needing a prayer of their selection at a public meeting. Cowan added the board represents the entirety of county residents, who pay their salaries, and asked that the board respect the separation of church and state and keep the moment of reflection in place.

Danyelle Anjo of Handy Township spoke in favor of the prayer saying "this is a Christian nation, one nation under God, indivisible, and we were founded on those principles".

Cindy Michniewicz of Hamburg Township reiterated Cowan's comment. She was not in favor of having a prayer but felt the moment of reflection was ok because everyone can have their own thoughts – expressing further that this is not just a nation of Christians but all religions.

The Committee did not take any votes or make any recommendations. It agreed to move the item to the full board for all nine members to decide. It will be up for discussion and a possible vote at the board's next meeting on Tuesday, January 17th.