County Commissioners To Begin Meetings With "Moment Of Prayer"
January 18, 2023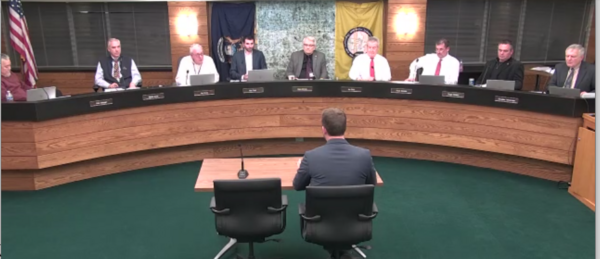 Jessica Mathews / news@whmi.com


Different commissioners and community members will now be leading prayers and the Pledge of Allegiance during meetings of the Livingston County Board of Commissioners.

Currently a "Moment of Silent Reflection" starts off regular board meetings. Vice Chair Jay Drick put forward a motion to amend the board agenda to state "Moment of Prayer" instead, which has now been discussed in various meetings by the full board and committee.
On Tuesday night, the Board voted to proceed with the change and have prayers led by commissioners. At the beginning of the meeting, Chair Dave Domas asked Sheriff Mike Murphy to step forward and lead the Pledge of Allegiance.

A resolution regarding the prayer was put forward by Commissioner Doug Helzerman, to which the board made some language changes and deletions.

Commissioner Jay Gross sought to remove a section stating "the chair would equally divide responsibility for praying among each commissioner willing to participate". That motion failed with the majority opposed. Gross and Smith were in support.

Legal counsel stated that in other counties the chair will solicit a volunteer before each meeting and work way down from the list of whoever did the prayer last.

A motion to have the chair solicit volunteer commissioners for the responsibility of praying, which would not be required, passed. Commissioners Wes Nakagiri and Helzerman were opposed.

Language to strike the words "or arrange for another person to pray" was removed and the suggested amount of time for the prayer was also changed to not exceed one minute.

As for views expressed during the meeting, Drick stated that all sessions of the U.S. Congress, House and Senate open with prayer. He noted the U.S. Supreme Court has determined that it is constitutional for the state legislature to start a meeting with prayer, along with county and local governments – adding he would guess notions of not being inclusive or diverse would have been thoroughly briefed and argued before the high court.

Commissioner Roger Deaton gave a definition of prayer and said he always assumed the moment of silent reflection was for prayer. He noted people pray during meetings of different organizations that he belongs to and said he didn't mind either way if it was silent reflection or prayer. Deaton added that bringing people in to pray might extend meetings longer than anticipated.

Commissioner Helzerman stated he felt it should be a commissioner-controlled prayer instead of opening it up to local churches or organizations or the general public – adding he felt acknowledging God would bring a blessing to the board. He also commented that they already allow prayer and anyone at call to the public can pray stating "I've prayed personally in call to the public…I use that time as a time to pray". Helzerman noted things can get out of hand for some bodies if prayers are opened up to the general public so he put forth the various points in the resolution to try to keep from getting into the weeds and problems other counties or governmental agencies have encountered.

Helzerman also spoke during call to the public as a private citizen about science and energy in the universe and explained why he believes in a "creator". He also talked about history of religion, saying prayer should always be allowed but never forced.

Commissioner Frank Sample stated a lot of people are triggered by prayer and people pray in different ways and he didn't have a problem with it either way.

Commissioner Jay Gross said he has no objection to prayer and prays every day, reiterating he was fine with keeping the moment of silent reflection and letting everyone do what they want. He stated he was also comfortable with changing the words to "moment of silent prayer" but voiced reservations about the full change and said he felt it had the "appearance of a potential disaster". He had concerns about scheduling, timing, and length of prayers – noting there are 140 churches in Livingston County.

Gross said he wasn't really in favor of the resolution as presented and felt they should simply change the language on the agenda to "moment of silent prayer" and leave it at that.

Chair Dave Domas commented he was fine with whatever direction the board wanted to go.

A few people spoke during call to the public, with roughly the same amount in support and against. Some felt the board should respect the diversity and beliefs of the community and keep the moment of silent reflection in place. Others support the prayer, including one speaker who regularly quotes scripture at meetings and did so again while offering some history about religion.

At the end of the meeting, Domas told the board that his intention will be to have someone from the community or in the audience at meetings lead the Pledge of Allegiance moving forward. There was no objection.