Howell High School Students Learn From Holocaust Survivor
January 21, 2023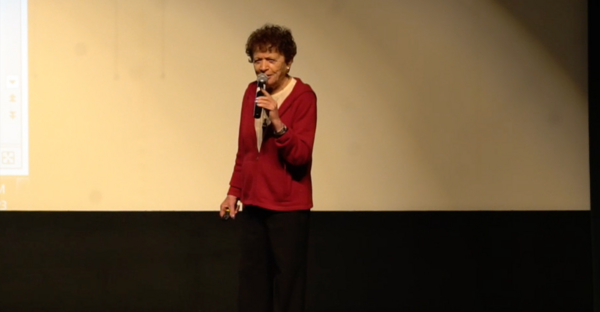 Jessica Mathews / news@whmi.com


Howell High School and Innovation Academy students had the opportunity to learn from a Holocaust survivor on Friday.

During her visit to the school, Irene Miller shared her story of survival, overcoming obstacles, and persevering to achieve success. Miller took students on a journey through her life; sharing the story of fleeing Poland, her time in a Siberian labor camp, years spent in orphanages, and how she went on to become a teacher, healthcare executive, and author.

Howell High School Principal Jason Schrock said "Having Mrs. Miller visit our school provided our students with an incredible learning experience. It is one thing to read about the Holocaust and its impact in a textbook. It is a completely different experience and much more powerful one, to hear about the Holocaust from someone who survived that time in history. Mrs. Miller not only shared her story of survival, but she also shared lessons on overcoming adversity and promoting tolerance and understanding of others".

Miller was asked by a student if she could give everybody one piece of advice, to which Miller replied "Don't be bystanders, be a part of your community. And what I say is Tikkun Olam, it means improving the world. You each have the responsibility to be part of the world that you try to make better in whatever small way you can, starting with your school, your community, your city. Don't be bystanders. Take part in positive actions".

Miller is a retired healthcare executive who has held positions as a hospital administrator, developer, and administrator of the first federally qualified HMO in Michigan and director of mental health for Livingston County.

Miller was director of the psychiatric division at Detroit Osteopathic Hospital and director of treatment centers for drug-addicted and dual-diagnosed women and their children at the Detroit Medical Center.

For a year, Miller served in Washington, DC, on an advisory committee for issues related to drug addiction in women and children.

For two years, Miller was a public school teacher in Israel. In retirement, Irene is a docent and speaker for the Detroit Institute of Arts, a courts mediator, and serves on the Board of Directors of the American Jewish Committee, the oldest civil rights organization in the US.

Since the University of Michigan-Dearborn published Miller's book, "Into No Man's Land: A Historical Memoir" in November of 2012, she's been in demand as a speaker at many large events in the United States and Canada.