Howell Nature Center Postpones Groundhog Day Event
February 2, 2022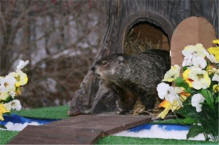 By Jessica Mathews / news@whmi.com


A major winter storm is unleashing travel-snarling snow and ice on this Groundhog Day – and even Livingston County's resident weather-guessing woodchuck doesn't want to come out.

Due to the extreme winter storm forecasted for the area and under the careful guidance of their meteorological expert and Michigan's Official Groundhog, Woody, the Howell Conference and Nature Center says it has made the difficult decision to reschedule their annual Groundhog Day event. It has been moved to this Saturday from 7:30 to 9am.

Officials say they acknowledge that the weather may change but out of care and concern for the community and staff, they felt it was important to make the decision as soon as possible.

The Nature Center will have dedicated Groundhog's Day content on its social media pages today and will stream Woody's prediction live at 8:30am on Saturday morning on their Facebook page. The winner of a snack contest will be announced this morning on social media.

The event is also a fundraiser to help build a larger, more natural habitat for Woody and her other woodchuck friends. While the current enclosure meets all of Woody's welfare needs, officials say they believe that Michigan's official groundhog deserves a home fit for a celebrity. They add that Saturday is forecasted to be a beautiful day and they encourage guests to stay after the event and enjoy the Wild Wonders Wildlife Park and Sledding Hill.

More information is available through the provided link.