Cardboard Recycling Bins At Genoa Township Hall Being Removed
December 30, 2020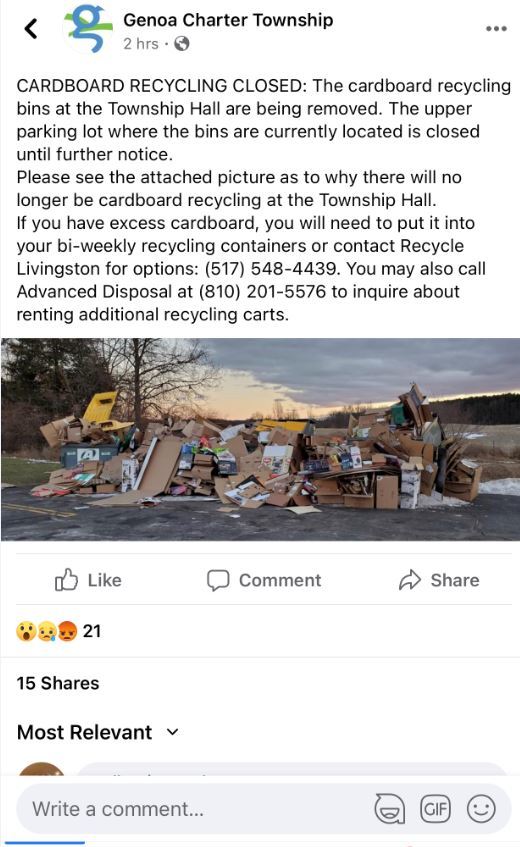 By Jessica Mathews/News@whmi.com


The cardboard recycling station at the Genoa Township Hall has been closed until further notice due to the amount of trash and debris being tossed in and around it.

Township Manager Mike Archinal told WHMI people have dumped yards and yards of debris despite the dumpsters being filled to overflowing – which has resulted in material being strewn all over the Township Park by wind. He said township staff and Advanced Disposal personnel have done their best to continue to provide the service however the debris placed in front of the containers makes it impossible to empty with standard equipment. Archinal said much of the debris is coming from outside of the community and there are Amazon addresses from all over the county. Additionally, he said the material is contaminated with greasy pizza boxes, Styrofoam and plastic.

Archinal commented that "logic and environmental stewardship should dictate that you don't mix regular trash with recycling and that if a dumpster is full you don't just dump your mess in a parking lot". With the COVID-19 pandemic and the continuing rise of Amazon, Archinal said they've seen an enormous increase in cardboard recycling this year –adding removing the on-site option does not, however, reduce the need.

Archinal said he's asked Advanced Disposal to provide a cost for switching to every week recycling instead of every other but is still waiting on pricing. He said he'll be asking the Township Board to consider modifying the contract as they enter into budget discussions over the next several weeks.

Attached is a screenshot of the township's Facebook post.