Final Site Plans Approved For Freedom River Project In Hamburg Twp.
September 7, 2023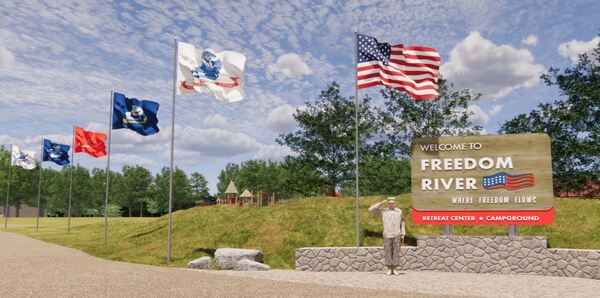 Jessica Mathews / news@whmi.com


Final site plans have been approved for a new, comprehensive outdoor recreation center for veterans and their families in Hamburg Township.

The Hamburg Township Board of Trustees met Tuesday afternoon and unanimously granted final approvals for the Freedom River project. The approval came with some conditions that were mainly tied to landscaping plans and needed approvals by outside agencies. It was noted that an existing farmhouse, silo, and barn will be maintained for use if financially feasible and may be considered as a historical building.

The property encompasses roughly 93-acres on the Huron River and Gull Lake. The project will offer a space specifically for veterans, their families, and active military to relax, recover, and rejuvenate.

Plans call for a private campground dedicated to use by United States military veterans and their families to include sports fields, tent camping area, cabins, recreational vehicle parking area, walking trails, a service dog training facility, welcome center, memorial plaza, chapel, accessory structures, and docks on Gull Lake and Huron River at 6716 Winans Lake Road. Facilities will be ADA-compliant.

The project comes from U.S. Army Veteran Jeff Yeakey and his wife Janna. They live next to the property, which they purchased with $2 (m) million they raised from personal donations.

The project received a funding boost in Michigan's 2023-2024 state budget, with $5 (m) million secured by Democratic 48th District State Representative Jennifer Conlin.

Separately during the meeting, a request was approved for an over-the-road event banner for the 2nd Annual Freedom River Fall Festival. The event banner will be placed over Merrill Road to advertise the event on Friday, October 20th from 6 to 10pm.

More information about the Freedom River project and fall event are available in the provided links.