Expected GOP Co-Chair Called To Step Down After Capitol Riot
January 7, 2021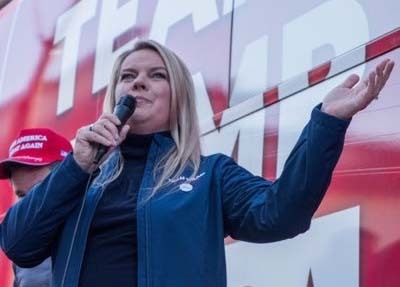 By Jon King / jking@whmi.com


The woman set to become state co-chair of the Michigan Republican Party is drawing fire from within the party after it was learned she helped to organize busloads of Trump supporters who traveled to the Capitol in Washington, D.C. for a Wednesday protest that turned into a riot.

The Detroit Free Press reports that Meshawn Maddock, who is married to Milford Republican State Rep. Matt Maddock, will become co-chair at the state party's convention next month. But after Maddock tweeted that the group of supporters that later stormed the Capitol were "the most incredible crowd and sea of people I've ever walked with," Republican activist Dennis Lennox called on her to withdraw her candidacy. Lennox said that if Maddock refused, the convention should suspend its rules and elect someone else. Authorities say Capitol Police shot one woman to death, and three other people died from medical emergencies during the rioting.


Meshawn Maddock needs to withdraw as the (unopposed) candidate for co-chairman of the Michigan Republican Party. If she doesn't, the convention should suspend the rules and elect a candidate from the floor. Period. https://t.co/xt5EfmQVNM

— Dennis Lennox (@dennislennox) January 7, 2021


Maddock's path to become co-chair was paved Wednesday when current Michigan Republican Party Chair Laura Cox announced she would not seek a second two-year term. The only other candidate who had registered to challenge Cox was former chairman Ron Weiser, who is running on a slate with Maddock as co-chair. While Maddock never expressly advocated violence on Wednesday, she did post a video to Instagram from the rally in which a man in the crowd can be heard shouting: "We need to march on the Capitol and drag these people out of power."




Maddock and her husband have been at the forefront of efforts to cast doubt on Michigan's election results despite more than 60 lawsuits alleging mass voter fraud being dismissed by courts across the country, including in Michigan, all concluding that the claims being made were without merit.

Neither Weiser nor Cox responded to requests for comment about Maddock. However, she did tweet a condemnation of the violence, stating "I condemn the violence and breaching of the capitol in the strongest possible terms. The rally was supposed to be a peaceful event and people who broke the law should be held accountable. I am horrified by the death of the young woman and pray for the healing of our nation.


I condemn the violence and breaching of the capitol in the strongest possible terms. The rally was supposed to be a peaceful event and people who broke the law should be held accountable. I am horrified by the death of the young woman and pray for the healing of our nation.

— meshawn maddock (@meshawnmaria) January 7, 2021