DNR Warns of Invasive Species Before Trout Season Opens
April 27, 2023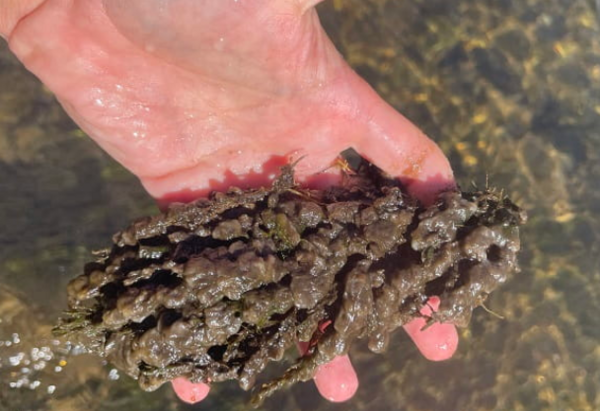 April O'Neil / news@WHMI.com

The flies are tied and rods and waders are ready as the trout season approaches on Saturday, April 29th.

Before heading out to that favorite fishing spot this season, the Department of Natural Resources and Environment, Great Lakes, and Energy, are asking anglers to prepare for one more thing: decontamination.

According to the DNR, Michigan's trout streams are under increasing threat from harmful species that affect habitat and food sources for trout and other fish. Both didymo (rock snot) and New Zealand mudsnail can be moved to new locations on waders, nets, and gear.

Didymo (pictured) is a type of algae that thrives in cold temperatures. Under the right conditions, didymo can grow into thick mats that cover river and stream bottoms, reducing habitat and food sources for native fish. Scientists say the algae spreads by attaching to anglers' waders and gear.

The invasive New Zealand mudsnail can be difficult to spot, but their populations are known to be present in the Au Sable, Boardman, Grass, Pere Marquette, Pine, and Upper Manistee rivers in Michigan. They choke out native food sources and are easily transported on boats, anchors, and fishing gear.

The DNR says in order to prevent these species from hitchhiking on your waders and gear, make plans for decontamination before heading to the water.

Always clean, drain and dry your waders, boots, boats, and other gear between trips or before moving to a new body of water. Take extra precaution in areas with known or suspected didymo or New Zealand mudsnail infestations.

In addition to removing debris and mud, the State of Michigan recommends using a chemical disinfectant to achieve maximum decontamination for didymo and New Zealand mudsnail. Possible disinfectants with documented effectiveness for these species include antibacterial all-purpose cleaners applied to waders and gear, bleach, or a product called "Virkon Aquatic."

Any chemical disinfectants should be applied to waders and gear on land, at a reasonable distance from the water.

Public reporting plays an important role in the early detection of invasive species. Any sightings can be reported by using the Midwest Invasive Species Information Network online reporting tool at the provided link.