COVID-19 CLOSURES & CANCELLATIONS
March 22, 2020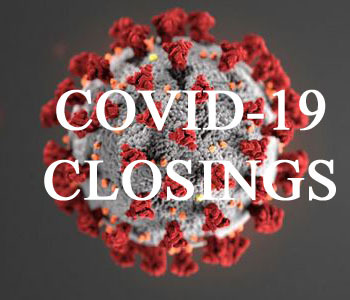 A series of local events and programs have been canceled or postponed due to concerns about trying to halt the spread of the COVID-19 virus.

Michigan Gov. Gretchen Whitmer has ordered all of the state's public and private schools to be closed through April 5 to combat the spread of a rising number of coronavirus cases. She has also ordered all Michigan bars and restaurants to close starting at 3pm Monday, March 16 except for carry-out services.

In the wake of that news and subsequent guidelines to try and limit or even eliminate gatherings of 50 or more people, many local groups and organizations have also been forced to cancel scheduled events or programs.


2/42 CHURCH

The 2/42 Church in Genoa Township is providing church online. Residents can participate in a worship service, Thursday @ 6:30 pm, Saturday @ 5:00 pm and then Sunday @ 9:00 am, 10:30 am, 12:00 pm, 5:30 pm & 8:30 pm. Chat live with others, pray with a pastor, and even participate in a small group-- all online at 242community.com and on social media at https://www.facebook.com/242Community.brighton.


AMERICAN SPIRIT CENTRE

Brighton VFW is canceling Bingo on Wednesday nights until further notice.


BRIGHTON DISTRICT LIBRARY

The Brighton District Library is closed until Monday, April 6th. All public use of Library facilities, collections and meeting rooms is canceled for the duration of this closure. Library materials may be returned to the outdoor drop boxes.


CONCERT FOR LOST VOICES

The Concert For Lost Voices that had been scheduled at the Whitmore Lake Campus of First United Methodist Church, 9318 Main Street, on March 22nd has been postponed and will be rescheduled.


COMMUNITY THEATRE OF HOWELL

All CTH activities conducted at the Freshman Campus are suspended until further notice.


ENCORE MUSICAL THEATRE

The Encore Musical Theatre Company in Dexter is shutting down until further notice.


FIRST UNITED METHODIST CHURCH

First United Methodist Church, Brighton Campus and Whitmore Lake Campus, has suspended in person worship, meetings and classes through March. Worship will be by Facebook livestream at 9:30 am on Sundays in March.


FOWLERVILLE DISTRICT LIBRARY

The Fowlerville District Library will be closed until further


GENOA TOWNSHIP HALL

The Genoa Township Hall is closed until further notice. Residents attempting to make a utility bill payment can do so online, by phone or via the drop box located just outside of the front doors or at the curb in the parking lot. Permit forms can be found at their website; www.genoa.org. Those with questions or needing to conduct other Township business, including obtaining permits are asked to call 810-227-5225 or email info@genoa.org between the hours of 9 a.m. and 5 p.m. Monday through Friday and staff will direct you to the appropriate department.



GREATER BRIGHTON AREA CHAMBER OF COMMERCE

The Greater Brighton Area Chamber of Commerce and St. Joseph Mercy Livingston have decided to cancel the Blooming Today for a Healthy Tomorrow event scheduled on March 25. They are acting out of an abundance of caution, and apologize for any inconvenience.

They will be sending a notice to anyone who has purchased tickets and providing full refunds.


GREEN OAK TOWNSHIP

The Planning Commission Master Plan public meetings and regular meetings have been postponed. April Township Board of Trustees meeting may be cancelled, also.


HAMBURG TOWNSHIP

Hamburg Township offices will be closed to the public until further notice. Staff will continue to work during this closure and encourage residents and patrons to contact them by phone or email during this closure.

The closing of the Hamburg Township Senior and Community Center will be extended through April 6, 2020.

The Hamburg Township Library is also closed through April 5th.


HANDY TOWNSHIP

Handy Township offices are closed to the public through May 15, 2020 or until further notice. They will still be available on Mon., Wed., & Thurs., from 9 a.m. to 1 p.m. by phone, fax or email and will be monitoring their drop box on a regular basis. If you require some sort of business in the building please call 517-223-3228 prior and they will take each request on a case by case basis.

Treasurer and Assessing Departments: Call during limited business hours and leave a message: 517-223-3228.


HOWELL TOWNSHIP

Staff only will be in the office from 9am to 1pm on Mondays and Thursdays. Board meetings will continue and updates will be posted on the township website. The March Planning Commission meeting has been postponed.


HOWELL AREA CHAMBER OF COMMERCE

The 57th Annual Livingston County Home Show, set for Friday, March 27 through Sunday, March 29 at the Howell High School Fieldhouse, is being postponed to a later date, yet to be determined.


HARTLAND CROMAINE DISTRICT LIBRARY

All Library programs cancelled and the library is closed through April 5th.


HOWELL CARNEGIE DISTRICT LIBRARY

In the interest of public health, beginning, Friday, March 13 at 5pm the Howell Carnegie District Library is closed. Until further notice, HCDL will be closed to the public. Watch howelllibrary.org for information and updates


CITY OF HOWELL

City of Howell offices will be closed to the public until further notice.

The Howell City Council's meeting scheduled for Monday, March 23 at 7 p.m. at City Hall has been canceled. The special meeting has been rescheduled for Monday, March 30 at 5pm.


HOWELL PARKS & REC

All Senior Programs at the Bennett Recreation Center, Oceola Community Center and Howell Area Aquatic Center are cancelled.

All Swim lessons and Fitness Classes at the Howell Area Aquatic Center are cancelled.

All Travel programs scheduled this month will be rescheduled and not cancelled. At the time we announce rescheduled date if those dates and time do not work we will consider refunding those programs as needed.

All Sports programs are cancelled. Please refer to the update from Howell Public Schools as all rentals for those facilities are being cancelled. At this time volleyball and soccer are not affected but we will make a determination in the near future as we gather more information.

All community meetings and gatherings scheduled to take place within our facilities are suspended until further notice.

All third party rentals are cancelled through April 12th.


HURON CLINTON METROPARKS

• All Metroparks public programming will be canceled from March 14 – April 5 and won't be rescheduled.

• All interpretative center buildings, including nature centers and the Marshlands Museum, will be closed to public and school use from March 14 – April 5.

• All school group visits will be suspended and rescheduled for future dates as possible.


LANSING DIOCESE

In an effort to help slow the spread of the COVID-19 outbreak, the Lansing Diocese, which includes Livingston County, has canceled public services and events through April 8th.


LIVINGSTON COUNTY

All Livingston County buildings and non-essential departments and services will be closed through April 5th. Normal operations and office hours will resume on Monday, April 6, 2020.


LIVINGSTON COUNTY CATHOLIC CHARITIES

LCCC is rescheduling the Salute to the Stars - 35th Anniversary Celebration is now set for Friday, May 29th at Crystal Gardens Banquet Center. More information will be released in coming weeks.

The Town Hall on March 24th about the Dangers of Youth Marijuana Is postponed until a date tbd.


LIVINGSTON COUNTY COURTS

All Livingston County Courts, business offices, the Friend of the Court, and all Court facilities for the 44111 Circuit, 53rct District and Livingston County Probate Court located at 204 S. Highlander Way in Howell and 224 N. First St. in Brighton, will REMAIN OPEN FOR ESSENTIAL SERVICES ONLY until Sunday, April 5, 2020.


LIVINGSTON COUNTY HABITAT FOR HUMANITY

The Livingston County Habitat for Humanity ReStore and Affiliate will be closed until April 6th.


LIVINGSTON COUNTY HEALTH DEPARTMENT

The Livingston County Health Department Immunization Clinic will not be open for immunizations and TB tests starting Wednesday, March 18, 2020. This measure is being taken as part of the mitigation strategy to slow the spread of coronavirus 2019 (COVID-19). For updates, please visit www.LCHD.org. For questions, call the Livingston County Health Department at 517-546-9850.


LIVINGSTON COUNTY PROSECUTOR'S OFFICE

The Livingston County Prosecutor's Office will remain open to continue performing essential functions, including warrant review of violent crimes and in-custody arrests as well as court proceedings involving emergency matters and in-custody defendants. The Law Center Building will, however, be closed to the public. If you need to contact the Prosecutor's Office, please call (517) 546-1850 or email us at Prosecutors@livgov.com.


LIVINGSTON COUNTY ROAD COMMISSION

To help ensure the safety of employees and the public, the lobby will be closed to the public. Appointments can be made for special circumstances Monday through Friday 8:00 a.m. to 3:30 p.m. by calling (517) 546-4250. The road commission will continue to be fully staffed and road services will not be disrupted.


LIVINGSTON ESSENTIAL TRANSPORTATION SERVICE (LETS)

LETS is suspending all transportation services until April 6th, except for dialysis patients.


LIVINGSTON COUNTY UNITED WAY

Livingston County United Way is working with community partners to mobilize the community in order to help those in need. As the information changes daily, if not more often, we are monitoring developments of the global pandemic and creating strategies to ensure our most vulnerable populations have the supports needed to weather this change.
All decisions are in an effort to remain consistent with the guidance from both Governor Whitmer and the CDC. This includes having conversations with both our local Department of Health and Human Services and our local Health Department.

The Livingston County United Way Building will continue operations and we have taken measures to ensure we have contained the spread of COVID-19.

As of March 16th:
Offices will remain open with limited on-site staff. Staff will be also working remotely. The best way to reach any of the staff during this time, will be by email. We will suspend all in person meetings at this time and most meetings will be held via GoToMeetings. Reach out to the facilitator if you have not heard about your up-coming meeting. With that same goal in mind, United Way staff will not be participating in any face to face meetings at this time, but will attend virtually.


MICHIGAN WORKS! SOUTHEAST OFFICES

Michigan Works offices will remain open, however, our services will be delivered through an increased use of technology. Effective immediately, all Michigan Works! Southeast locations are open for appointments only. The number one priority of Michigan Works! Southeast is the safety of our team members, customers, partners and the communities we serve. For updates relating to the way we are providing services, please visit www.mwse.org/COVID-19. Customers can also call their local office to schedule an appointment or for information. Livingston: 517-546-7450


NORTHFIELD TOWNSHIP

In accordance with the Governor's "Stay at Home" order, the Northfield Township Office will be closed through April 13th. Police Officers will remain on Patrol and will continue Investigations. Police and Fire Fighters will continue to respond to emergency incidents. All Board and Commission meetings will be cancelled through April 13th.

The Northfield Township Community Center is closed effective immediately and will remain closed until further notice. All classes and programs are cancelled indefinitely including the Senior Café Lunches. However, we are working with the Washtenaw County Office of Community & Economic Development to ensure that Meals on Wheels delivery continues for our citizens in greatest need.

The Northfield Township Area Library is closed indefinitely. We will be assessing the situation on a daily basis and will adjust our approach based on recommendations from public health authorities.


PINCKNEY COMMUNITY PUBLIC LIBRARY

The library is closed through Sunday, April 5th.


RECYCLE LIVINGSTON

Recycle Livingston will be closed until Wednesday, April 8th due to safety and health concerns.


SALEM-SOUTH LYON DISTRICT LIBRARY

The South Lyon District Library is closed until further notice. Please visit https://www.ssldl.info/, our social media or their road sign for the latest information. Book drops will remain open. Due dates for the return of library materials will be extended to May 1, 2020. Library cards will be automatically renewed in order to allow continued access to 24/7 online resources.


STATE REP. ANN BOLLIN

Rep. Bollin has cancelled her March 23rd office hours in Pinckney and Brighton. She says, in a release, that her Lansing office will continue to be at her constituents' service.


STATE REP. HANK VAUPEL

Rep. Vaupel has canceled his in-district office hours for March. Vaupel's office intends to resume in-district office hours in April, which are held on the third Friday of every month.

TANGER OUTLET CENTER

Tanger Outlets in Howell and Grand Rapids will close effective 12:01am March 24th until further notice. Updates will be posted online at www.tangeroutlets.com.


VILLAGE OF MILFORD

Village Offices will close to the public through Monday, April 6, 2020. Village staff remain at work and are available during normal business hours via phone and email to answer questions and assist with permits, payments, and other services. Our online services remain available 24/7 and we will be waiving the credit card processing fees during this office closure.

Office Phone Number: 248.684.1515

Online Services: http://www.villageofmilford.org/services


VINA COMMUNITY DENTAL CENTER

The VINA Community Dental Clinic will be closed for two weeks, starting March 17th, following recommendations from the Michigan Dental Association. There will be staff to answer questions and assist patients in rescheduling appointments via phone.