Ceremony Honors Beloved Brighton Firefighter's Legacy
June 17, 2021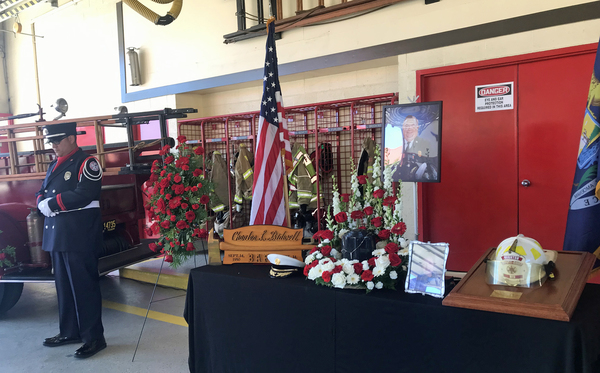 By Jon King / jking@whmi.com


Firefighters past and present paid their respects today for one of the longest members of the fire service as they honored his more than half a century of service to the Brighton community.

The traditional sounding of the bells, called the Striking of the Four Fives, was made for former Deputy Chief Charles L. Bidwell of the Brighton Area Fire Department, who died June 9th at age 89. A noontime service took place at the fire authority's Main Station, officially named in Bidwell's honor.



When he retired in 2000, Bidwell had spent more than 50 years in the fire service, all of it in Brighton. Beginning as a Junior Fire Department volunteer in 1947, Bidwell officially became a Brighton firefighter in 1950, rising through the ranks as a sergeant, lieutenant, captain and eventually Deputy Chief.

Current Fire Chief Mike O'Brian said Bidwell's impact went far and wide. "He was always looking out for this organization and he'll be missed for that, but I'm excited that we get this opportunity to honor him today. And when I say it goes beyond, like we can't even figure out how to put on a map what Charlie's impact is. From organizations, to where people have landed, to where people have served, it's gone beyond the Midwest. There are firefighters that served under his command that are all over. And that's the legacy."

Among those who came back to honor Bidwell was former Brighton Fire Chief Richard Shinske, who said it made no difference what rank he held, Bidwell was the very definition of leadership. "He was dedicated to whatever he did. Charlie was a leader. He may not have been the chief of the department, but that did not mean a thing. Charlie was a leader. When Charlie was in a position where someone needed to be shown direction or guided in the right direction, Charlie jumped right up and did it. That's the kind of guy he was."

Brighton Assistant Chief Jim Tester said Bidwell's presence in his life began the minute he became a junior firefighter nearly 40 years ago and it only grew from there. "Over the years, Chuck was my boss, he was clearly a mentor to me and at some point he became a friend. I'm not sure when that happened, but it did. I consider myself very lucky to have had his friendship for the last 37 years, and that's how long I've been here. I consider Chuck a very strong reason that I stayed in the fire service. He was one of those people that would push you to do the right thing, be the best you could be and then try and be even better than that."

In addition to serving as a firefighter for more than half a century, Bidwell was also a reserve Brighton police officer for more than 20 years, served two terms on the Brighton City Council from 1967 – 1975, and then served as Brighton's Mayor Pro Tem from 1973 – 1975. He was Brighton's Firefighter of the Year in 1987, and then Michigan's Firefighter of the Year in 2000.

Following the ceremony, a procession of fire trucks and other official vehicles escorted Bidwell's family out onto Grand River to St. Patrick Calvary Cemetery, where Bidwell was laid to rest.