New Brighton Police Officer Sworn In
September 23, 2018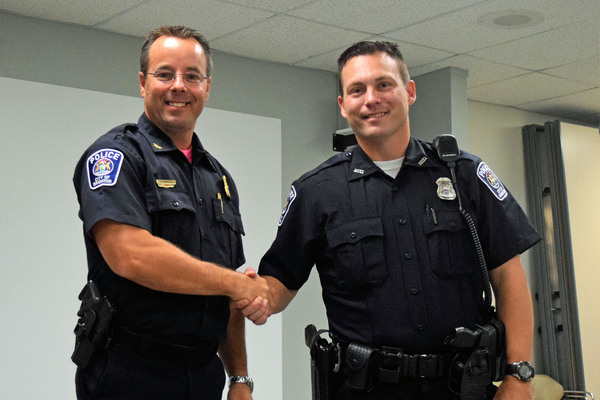 A new officer has been sworn in for the Brighton Police Department.

Mark Reckling was sworn in Thursday night at the Brighton City Council meeting by City Clerk Tara Brown. Reckling is from Mason, near Lansing, where he was a police officer for two years. He is married and has two children, ages 1 and 4. Reckling, who will be a patrol officer, told council he was, in his words, "very happy to be a part of the Brighton community now."

His hiring makes a total of 19 officers on the force, including Police Chief Rob Bradford, Deputy Chief Craig Flood, four sergeants, nine patrol officers, school liaison officer Chris Parks and two reserve officers. Reckling is the second officer hired in the last seven months: Officer John D'Amico of Brighton Twp. was hired in February. Reckling is pictured right, next to Police Chief Rob Bradford. (TT) Photo credit: Deb Utter, Brighton Police Dept.