Brighton City Council Approves 2023 Civic Events
March 8, 2023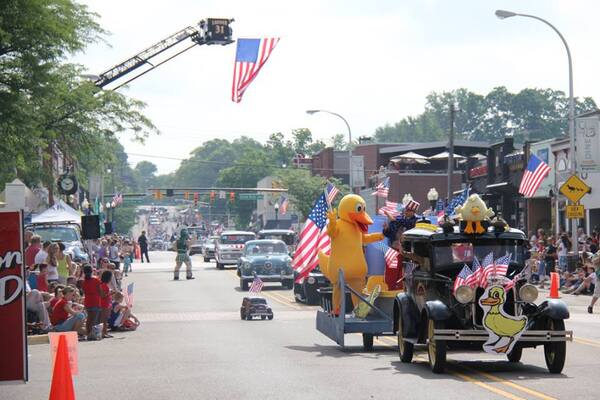 Tom Tolen / news@whmi.com


The Brighton City Council has unanimously approved the recommended list of civic events for 2023 - with two exceptions. They are the "Weekends on West" and "Veterans Connect Ruck to Live" events, which results in 17 events that have been given the go-ahead by council for this year. The Weekends on West and Veterans Connect events were tabled at last Thursday's meeting and will be back before council in April after review.

Among the more popular annual events given approval were the Farmers Market, Memorial Day Parade, Fishing Derby for Kids, July 4th events including the parade and Hungry Duck Run, Veterans Day Parade, Holiday Glow with Christmas Market, and Ladies Night Out. The cost to each individual event sponsor will be 33% of the city's total cost.

Assistant to the DPS Director Patty Thomas, who reported to council on the list, said that civic event applicants were given generous advance notice of the timeline for the downtown Brighton Streetscape program. Thomas said that despite potential disruptions caused by the Streetscape project, the civic events committee has encouraged the sponsors to go through with their events. In her words, "The city and the civic event committee will work with them to ensure that their event will be successful."

Certain large events, such as "A Taste of Brighton", the "Smokin' Jazz & Barbecue Blues Festival", the "Spring Ladies Night Out", have all either decided to change the location of the event, or — in the case of "A Taste of Brighton" — will not hold the event at all this year. As Thomas told council, "Most of the large events are not going to be held downtown." The majority of the regular events will be held at the AMP, which will not be affected by the Streetscape program, or — like the Farmers Market - held on a side street. Despite Main St. being under reconstruction, the 4th of July and Memorial Day parades that have been a staple of the past will go on as scheduled.

Something new this year will be small "pop up" events, which are deemed too small to be considered a full-fledged civic event. As pop-up events, they will be subject to review and approval or denial by City Manager Gretchen Gomolka and not require individual council approval.

Thomas told WHMI the cost to the sponsor is based on a combination of hours the DPW spends on preparation and cleanup, the cost to police for patrolling, and providing electrical service, if needed. She said the Weekends on West approval was put on hold primarily because of the noise factor, and there was concern about the Veterans Connect event requesting full closure of Main St. for most of the day. She will be meeting with those groups in the near future and they will be back before council in April for consideration.


The complete list of approved events is below:

Cinco de Mayo - Fri., May 5, 11 a.m.-11 p.m.

Farmers Market - Saturdays, May 6 through Oct. 28, 8 a.m.-1 p.m.

Memorial Day Parade - Mon., May 29 - 10 a.m.-11 a.m.

Swing at the AMP! Mondays - May 29-Sept. 4, 7 p.m.-10 p.m.

Turn Up The AMP! - Wed June 14, July 12, Aug. 9, Sept. 13 - 5:30-9 p.m.

Fishing Derby for Kids - Sat., June 17 - 5 a.m.-1 p.m.

Livingston County Concert Band - Tuesdays, June 6 & June 13, 6 p.m.-9 p.m.

July 4 Events: 16th Annual Hungry Duck Run - 6 a.m.-9:30 a.m. & July 4th Parade -10 a.m.-noon

Terrific Tuesdays Reading & Crafts - Tue., July 11-Aug. 22,10:30 a.m.-11:30 a.m.

BAFA 9/11 Memorial 5K Run/Walk - Sat., Sept. 9, 8 a.m.-11 a.m.

LACASA Glow Gathering Lighting Ceremony - Fri., Sept. 29 - 7 p.m.-8 p.m.

BHS Homecoming Parade - Fri., Oct. 13 - 6 p.m.-7 p.m.

CROP Hunger Walk - Sun., Oct. 15 - 2 p.m.-4 p.m.

Veterans Day Parade - Sat., Nov. 11 - 11 a.m.-12:30 p.m.

Holiday Glow with Christmas Market - Sat., Nov. 18 - 1 p.m.-7 p.m.

Ladies Night Out- Thur., Dec. 7 - 5 p.m.-9 p.m.