St. Joe's Brighton Cancer Center Honors Survivors, Unveils New Treatment System
June 28, 2018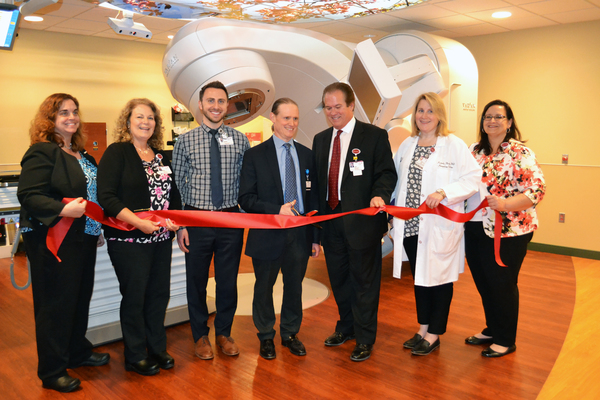 Cancer survivors were honored during a ceremony at the St. Joseph Mercy Brighton Cancer Center, which has a new addition to its oncology unit. The event at the Cancer Center Tuesday celebrated cancer survivors' strength and courage in recognition of National Cancer Survivors Month. The ceremony also paid tribute to those that have lost their battle against the disease. That very well could've been the end result for Bill Mann, a patient who was diagnosed with stage four lung cancer just 18 months ago.

Mann, who spoke during the program, says that was a very difficult time in telling his children about his bleak diagnosis. But then he was approached by a doctor who encouraged him to participate in clinical research trials. The trial drug halted the cancer's growth, meaning that Mann will still live with cancer, though it is now controlled.

Mann says he feels great and is able to enjoy and participate in physical activities again. He believes his "second chance at life is entirely due to the clinical trial drug". Mann says it's "truly been a blessing" to be a part of the trials, turning his negative cancer experience into something positive.

After the program, a ribbon-cutting ceremony with the Brighton Area Chamber of Commerce unveiled the center's new Varian True Beam Linear Accelerator. The machine can treat cancer anywhere in the body through image-guided radiotherapy and radiosurgery. Officials with St. Joseph Mercy Health System say the linear accelerator ensures local patients can receive comprehensive care close to home. It is part of the Health System's investment into its Livingston County hospitals, which totals out to a $41 million transformation.

The event also included a tour of the Radiation Oncology unit and attendees had the opportunity to learn about the center's services, which include genetic counseling, pastoral care, and oncology social work from the system's medical experts. (DK/JK)




Photo courtesy of Kelly Bergen: (Left to right) Jane Strudgeon, manager, Radiation Oncology, Saint Joseph Mercy Health System (SJMHS); Beth LaVasseur, executive director, Oncology, SJMHS; Derek Yaldo, chief medical physicist, SJMHS; Dr. George T. Henning, III, Radiation Oncology, SJMHS; John O'Malley, president, St. Joseph Mercy Livingston and Brighton; Dr. Kimberly Morley, Medical Oncology, SJMHS; and Bridgett Young, manager, outpatient nursing, Radiation Oncology, SJMHS.