Bollin Bill Would Exempt School Grad Ceremonies From COVID Rules
May 5, 2021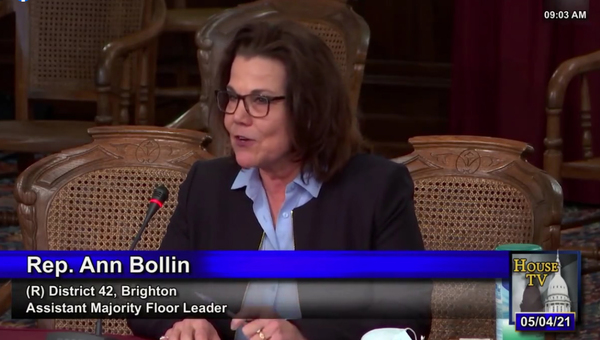 By Jon King / jking@whmi.com


A bill sponsored by a local lawmaker would allow high schools to hold graduation ceremonies regardless of state orders.

The House Education Committee approved HB 4728 along party lines Tuesday after Republican State Representative Ann Bollin of Brighton Township testified before the panel. Bollin says the measure would ensure state health department rules don't prevent Michigan school districts from hosting commencement ceremonies.

Under current state health department rules, Bollin said three high schools in her district would not be able to host graduation ceremonies without limiting students to one guest each – even if they hosted it at a venue with more than enough space to adhere to social distancing recommendations.

The plan is opposed by Ingham County Health Officer Linda Vail, who said that exempting large gatherings of high school-age kids is (quote) "probably not the wisest thing to do." Also taking a stand against the bill is the Michigan Education Association, which released a statement saying the "Piecemeal dismantling of public health orders meant to protect everyone's health is irresponsible."

A press release from Bollin states that in no way does the bill require a school district to hold a commencement ceremony or obligate a student and their family to attend, it just allows districts to choose to hold a graduation ceremony in a safe manner that suits their own district.

The bill now moves to the full House for further consideration. Meanwhile, the GOP-controlled Senate today passed a similar bill, with all but one Democrat in opposition. The bill's sponsored, White Lake Township Republican Sen. Jim Runestad said the risk of coronavirus spreading outdoors is low. "Most local school boards have done a good job of mitigating the risk of COVID. We should trust them to safely manage their own graduations," contending that students and their families deserve "this last irreplaceable high school memory."

But Democratic Sen. Curtis Hertel Jr. of East Lansing called the legislation "utter nonsense." Nobody is trying to prevent commencements, he said.

Sen. Dayna Polehanki, a Livonia Democrat, said K-12 districts are working to plan graduation ceremonies in accordance with health guidance and "what works for their communities." She unsuccessfully tried to tie the bill to education legislation that would again pause a law allowing third-graders to be held back due to low test scores, given many students have learned online this academic year.

Last week, the state Department of Health and Human Services quietly issued guidance about high school end-of-the-year events such as graduations and proms. Citing a statewide surge in coronavirus cases that is subsiding, it recommended virtual events but said the guidance would be reviewed and updated as the epidemiology evolves.

The state recommended that in-person events be held outside — not indoors — and that schools require any student, staff, volunteer or other attendee to test negative within 24 or 72 hours of the event, depending on the type of test. The use of cohorts or pods was encouraged for social events like proms and year-end parties.

The state asked school officials to consider shortening the length of events and scheduling students in staggered time slots.

Whether Bollin's bill or Runestad's bill gains final legislative passage, it would still require Gov. Gretchen Whitmer's signature to become law.