Attorneys Sit Center Stage On Day 4 Of Brennan Hearing
October 5, 2018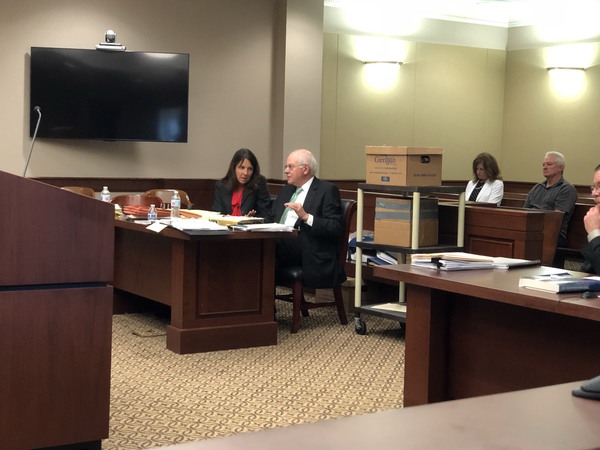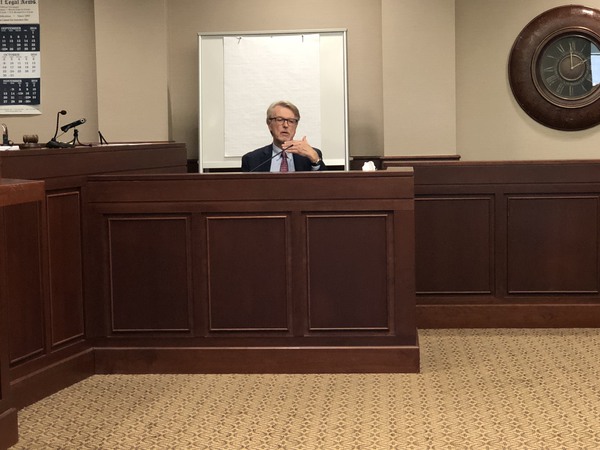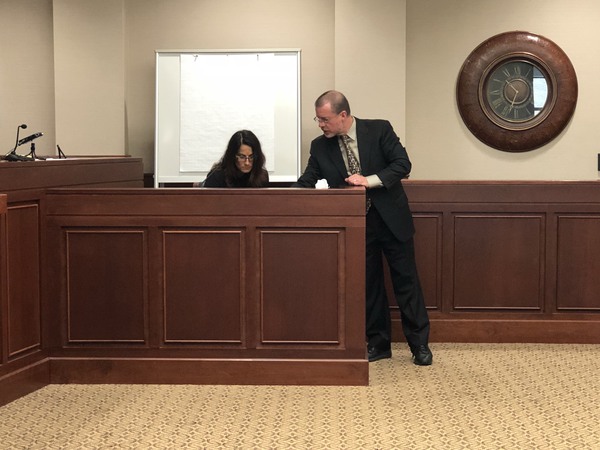 Testimony on relationship disclosure and courtroom behavior was given during day four of the Michigan Judicial Tenure Commission's complain hearing against 53rd District Court Judge Theresa Brennan.

Thursday marked the fourth day of the JTC's hearing which is being held at the 16th District Court in Livonia. The hearing is being presided over by Former Circuit Court Judge and Special Master William Giovan. The main issue of the complaint is Brennan's relationship with former State Police Detective Sean Furlong, who was the chief prosecution witness in the 2013 double murder trial of Jerome Kowalski.

Among those taking the stand was Walter Piszczatowski. Piszczatowski defended Kowalski, who was ultimately convicted and sentenced to life, in a case that was presided over by Brennan. JTC Executive Director Lynn Helland asked the attorney of 41 years about a letter he was made aware of on the eve of the trial in January 2013. The letter, which was written by Howell attorney Tom Kizer, was sent to the Prosecutor's Office, warning about the potentially inappropriate relationship between Brennan and Furlong. Piszczatowski said from the letter and a conversation with Brennan, that he had no reason to believe it was anything more than a professional, social relationship at that time. He recalled from the meeting in the judge's chambers that Brennan was fighting back tears talking about how Kizer has had it in for her.

Helland asked Piszczatowski if Brennan disclosed how frequently she and Furlong talked on the phone and hung out, often at bars. He said no. Helland dug deeper, asking if Brennan disclosed to him that she swum in her swimming pool at a party at which Furlong was at, and that while in the pool had removed her clothing. Piszczatowski said no, and when asked if that was significant to him, he said "Yes, that is a huge fact." He said , "I can't believe any chief judge would say 'Okay, sure, try the case,' if they heard that fact. That's just me, though. But no, that didn't come up. There was nothing of any mention to me of any sexual entendre or titillating nature, no."

During cross-examination, Brennan's attorney noted that the conviction was made by a jury and the life sentence was mandatory and out of Brennan's control. Piszczatowski agreed, but felt her disallowing of expert witnesses was unjustified and had an effect. After the appeals process, a psychological expert was allowed, but Piszczatowski said it was the one that wasn't that hurt Kowalski more. Disallowing the false confession expert gutted the case, he said. "She's the gate keeper. She shut the gate."

Also on the stand yesterday was Livingston County Assistant Prosecuting Attorney Kim Morrison. Morrison has served in that role since 2016. From 2005 through 2013 she was the video clerk for Judge David Reader. It was during this time around 2007 that she made friends with Brennan, Furlong, State Police Detective Chris Corriveau, and Assisting Prosecuting Attorney Shawn Ryan. Ryan testified on Wednesday that she did not date Furlong, but they did have sexual relations. Morrison said Ryan was only a part of their group for about a year and was definitely out of it by 2009. Brennan and Furlong claim their relationship began after the trial, but documents from Brennan's 2017 divorce hearing suggest otherwise. JTC Executive Director Lynn Helland asked Morrison about this. He posed that if Judge Brennan said that prior to the Kowalski case in 2013, would it be consistent with Morrison's recollection that would have been extremely rare for Brennan to socialize with Furlong, Corriveau, or her with Ryan not present. Morrison said, no, that would not be consistent. Helland continued, "In fact, if understand what you said, it was actually quite common for you to socialize without Shawn Ryan being there." Morrison said yes.

Morrison said their core group of 4, being her, Corriveau, Fulrong and Brennan would socialize regularly until she cut back in 2011 after being discovered in an extra-marital affair with Corriveau. Morrison, while still Reader's clerk at the time, recalled a strange reaction from Brennan when she called her and talked about leaving Corriveau. One day while on the Morrison said she told Brennan that she had taken interest in someone who is "kinda cute." Morrision said Brennan asked, "Is it Sean Furlong?" to which Morrison said she was relieved that she did not say his name, and that it felt "odd to me."

Civil Division Leader for the 53rd District Court, Lisa Bobe, testified to Brennan's demeanor. Bobe said that outside of court, Brennan was fun. Inside was a different story. Bobe said Brennan could be nice or difficult, calling it a "Jeckyl and Hyde" situation.

Amy Krieg is an attorney for Habitat for Humanity. From 2012 to 2015 she worked for Sherry Pollesch's law firm. Pollesch is an old, former friend of Brennan, who has also represented Brennan's ex-husband businesses. Krieg said that while being the defense attorney in the Halliday v Halliday case before Brennan, Brennan called her into her chambers. Brennan accused her clients of committing a crime, stating that she could have the bailiff take them into custody now and that Krieg could be implicated in the crime, too, according to Krieg. She requested Brennan be disqualified from the case, in which she was. Brennan's attorney said during cross-examination that Reader's stated reason was that Brennan was biased towards Krieg. She said Brennan was very harsh with her afterwards, and that she couldn't live her life in fear of going in front of her so she took a new job working for a law school.

Pam Maas, Chief Assisting Prosecuting Attorney for Livingston County was the final witness to share testimony. She said at times Brennan's court would be a normal court, and at other times she would be intemperate to attorneys. She said she, too, did not know of the alleged closeness of Brennan and Furlong's relationship. She saw Kizer's letter on the eve of the Kowalski trial and was the one to share it with Piszczatowski. Maas said during the conference in the judge's chambers that Brennan believed the letter overstated things and seemed upset. Maas said she was unaware and that Brennan did not disclose of the phone calls and texting that went on between her and Furlong during the trial and between the verdict and sentencing.

The JTC's hearing continues Friday.